Masai Vehicle Accessories and Parts
Flat Roof Racks for Land Rover Defender 90 and 110 - 3 Sizes
FLRR45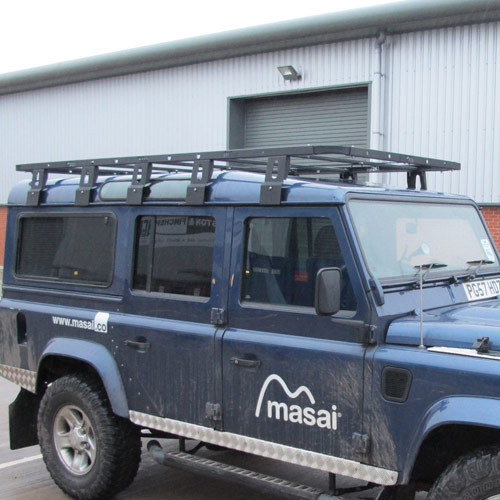 Steel Roof Racks
Masai Flat Roof Racks Land Rover Defender 90 and 110 - 3 sizes
Defender Flat Roof Rack suitable for folding tents.
Made of Zinc Plated Steel and black powder coated automotive paint.
Overall height including brackets from the gutter line is 285mm.
The Masai Defender Flat Roof Rack frame rail is 45mm high, and 1370mm wide.
Self assembly.
Available in 3 sizes - 1.5m, 2.15m and 2.8m.
The 1.5m also fits Discovery 1 and 2.
The 2.8m Roof Rack is only suitable for Land Rover Defender 110.
NOTE: Photos are of a 2.8m only.
Optional Extras:
Rear Roof Access Ladder, matching right side lamp guard. (Read More)
DOWNLOAD FITTING INSTRUCTIONS HERE
PLEASE MAKE SURE YOU PROTECT YOUR PAINTWORK WHEN POSITIONING THE ROOF RACK. Protect the whole of your roof and roof sides with a blanket and use at least two people to position in place prior to attaching the feet.
Length
1.5m (for 90 and 110) (0) 2.15m (for 90 and 110) (0) 2.8m (for 110 only) (0)
Add Optional Rear Roof Ladder
No (0) Yes (76.65) Yes PLUS right Side Lamp Guard (109.98)
---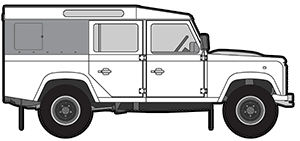 Land Rover Defender Upgrades, Enhancement Accessories and Parts
Welcome to the Masai® Omega Automotive eStore. We design and manufacture a wide range of high-quality vehicle upgrades, enhancement accessories and parts for the Land Rover Defender, 90 and 110, particularly windows; but have a look around our website – we also have Defender roof racks, LED and HID lights, spare wheel carriers, seat covers, steps, lamp guards, mirrors, treesliders, winch bumpers, etc.
One of our flagship products is our own-design Masai® Bonded Tinted Panoramic Windows for the Land Rover Defender, 90 and 110. The dark-tinted toughened glass side panel windows increase your Defender's privacy, security and value! As featured on exclusive Nene Overland Defender Icons.
Windows for Horseboxes, Vans and Minibuses
We also manufacture and sell Horsebox Windows and Hatches, Luxury Horsebox Bonded Windows, Van and Minibus Bonded Windows and Coach Windscreens.
Vehicle Lights – LED and Xenon HID Lights
We have a large range of premium-quality Driving Lights, Work Lights and Spot Lights. Some are modern low-power-consumption LED Lights, and others are high-luminosity Xenon HID vehicle lights. All lights are harsh environment compliant to IP65 or IP67. Rugged waterproof diecast aluminium housings (some ABS), spot beam and flood beam, various wattages from 15 to 150 and a wide voltage range from 9v to 32v. NEW for 2014 are the NAS LED lights for Land Rover Defenders, clear sets and coloured sets for all post 1983 90 and 110, include plinths, E marked (EU approved) and SAE approved. They provide increased visibility (brighter than standard bulbs) and they enhance and modernise the look of your Defender, easy to fit DIY.