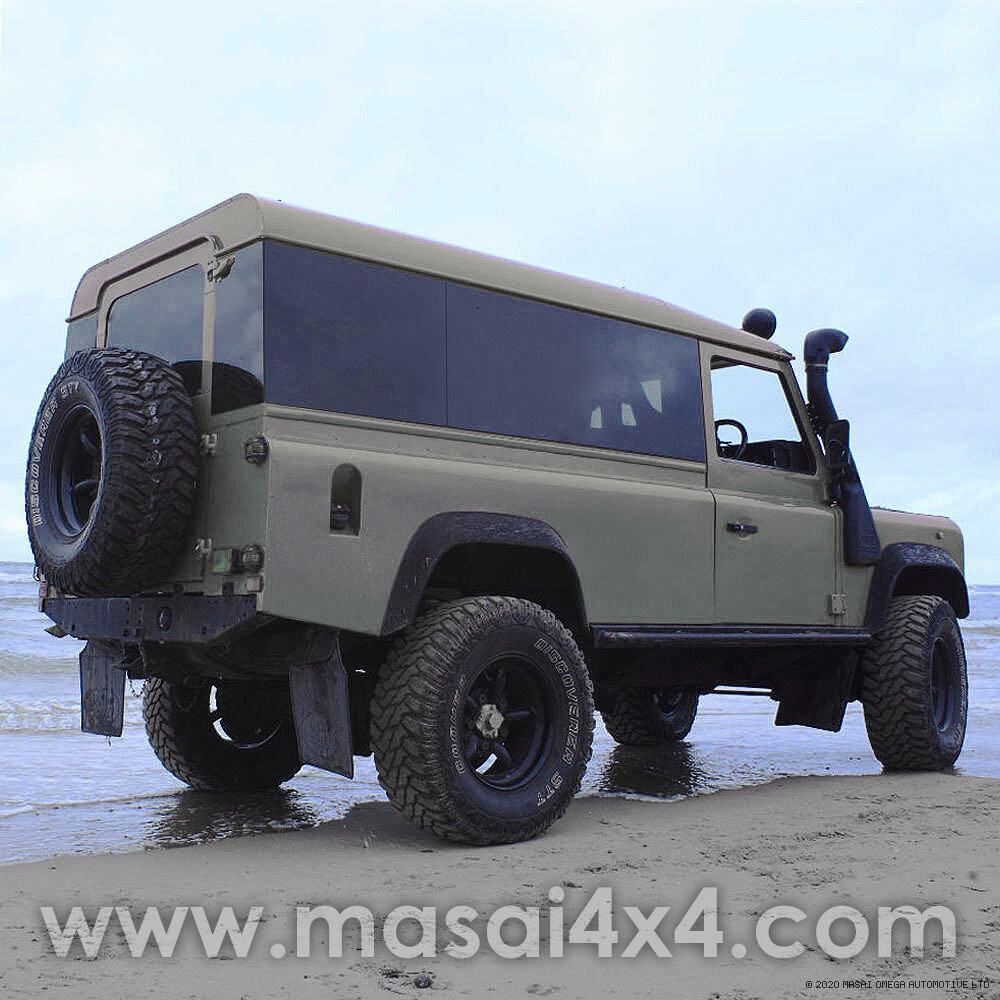 Fixed Panoramic Tinted Windows Full Length - Land Rover Defender 110 2-Door Hardtop
SKU FLPAN110-FW
Product Details
Fixed Panoramic Tinted Windows Full Length - Land Rover Defender 110 2-Door Hardtop

USA /

CANADA CUSTOMERS: We cannot ship with the fitting kit due to customs restrictions. You will need to source your own silicone adhesive. We recommend at least 300ml x 3 of silicone to fit the sides and quarter light windows. NOTE: Our Panoramic windows will only fit Defenders POST 1989.
Each side comprises of two pieces of glass (Main side piece & extension glass). Extension glass has two variations: fixed black out glass, or a sliding opening version depending on your choice. (See photos).
Total Fitted Dimensions are: 2135mm (W) & 513mm (H)
Extension Glass dimensions are: 720mm (W) x 513mm (H)
This fixed version has an internal aluminium window frame (painted black) that will fit inside your window cut-out; then the extension glass is fitted together to cover the entire length of a 110 hardtop rear side panel.
EXTENSION GLASS: If you choose the sliding opening extension glass, this will feature a similar internal window frame and will sit inside a 2nd smaller cut-out. The fixed version is a blacked out glass sheet bonded straight onto your Defender side panel.
Innovative and exclusive, future-proof design.
Features a quality, high-security window locking system.
Sold as a KIT in PAIRS.
70% no-light transmission factory prepared privacy tint.
E43R approved 4mm toughened safety glass.
Complies with European Commission Directive 2001/92/EC, Regulation No 43 of the UN/ECE.
Reflects heat and reduces glare.
Premium build quality.
Leak proof, draft proof.
Kit includes both sides of glass (4 pieces), primer, a special silicone adhesive, template and fitting instructions.
Silicone adhesive heat tolerance is minus 40 to plus 90 degrees C.
Fitted in just a few hours DIY.
The size of the aperture needed is 1057mm x 427mm - which is the Land Rover standard size for Defender rear side windows.
Fits all Land Rover Defender 110 2-Door Hardtops (See photos), if you have another type just call and we can discuss.

REAR GLASS NOTE : If you also purchase the Rear Door Glass - carefully remove the existing rear door glass without damaging the rubber - as you will need to re-use the rubber. Carefully remove brake light including brackets from old glass as you will need to glue to new glass.
OPTIONS:
Extension Glass - Fixed (Blacked out) fitted onto panel, or Sliding (needs a cutout in the side panel to fit)

Tinted Rear Door Glass - Pre 2002, Post 2002, or Panoramic Version which is compatible with all Defenders.
Pair of matching Bonded Tinted Quarter Light Windows - With or without.
Save this product for later