These Defender rear windows have been designed as standard size replacements for the Land Rover Defender 90 and 110 and may fit other models – just call to discuss. Land Rover Defender rear door glass is easy to fit if you know a bit about DIY. Fitting service also available – just call.
Our Defender rear windows are made using E43R toughened safety glass – Omega Automotive has been manufacturing automotive safety glass and many other vehicle parts for many decades and supplies all around the World to various automotive firms. The dark tint is factory-prepared – the glass is actually tinted and not a stuck on film which can peel off – film is not simple to apply in any case as the glass has to be removed.
Rear Door Glass - Dark Tinted & Heated for Post 2002 Land Rover Defenders 90/110 - (Sealed in)
LRD-RDG-POST2002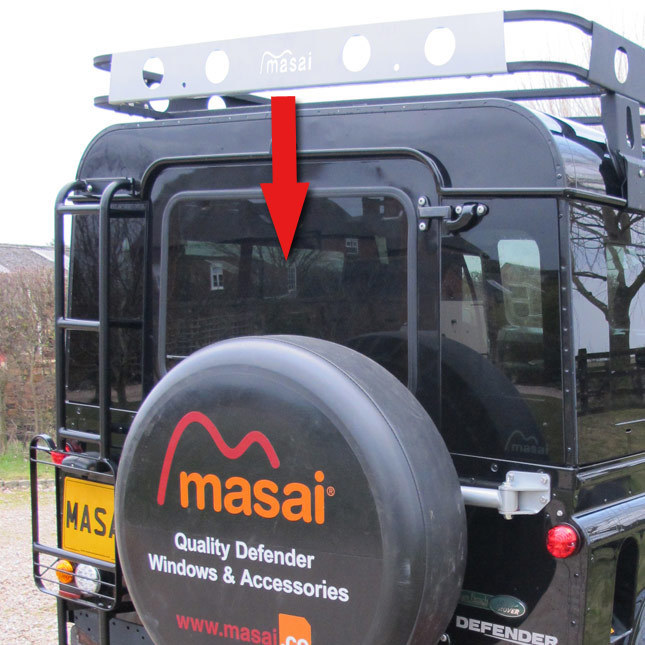 Rear Door Glass - Dark Tinted and Heated for Post 02' Land Rover Defenders 90/110 - (Sealed in)
This rear door glass is for Post 2002 rear doors for Land Rover Defenders. It is fitted with a rubber seal. Either re-use your old seal or purchase a new seal.
Standard size replacement. (Original Part Number: LR042729)
High quality Masai product.
4mm toughened (tempered) safety glass E43R – 00320 DOT6. European Commission Directive 2001/92/EC, Regulation No 43 of the UN/ECE. DOT6 US motor vehicle specification.
70% no light transmission high quality factory-prepared dark tint – NOT an attached film which can be scratched or peeled off. Appears as grey with a hint of green.
Heat reflecting coating, glare reduction glass.
NOTE : Carefully remove rear door glass without damaging the rubber - as you may want to re-use it (although you can buy a new seal in this product's options). Carefully remove brake light from old glass as you will need to glue it to the new glass.
Options
Add Rear Door Rubber Glazing Seal for Post 2002 Defenders only (Land Rover part number CVW500010).
Add a pair of studs to fit high-level brake lights (Land Rover part number AWR4647).
OEM Part No:LR042729
Application:Rear Door Glazing
Suitable Vehicle:Defender 90 & 110
Add Fittings?
Rubber Seals (For Post 2002 Doors ONLY) (30)
Add studs to fit high-level brake light?
Yes (Pair) (8.33)