Vehicle Sun Roof / Wide Opening Roof Window / Vent / Shooting Hatch / Deck Hatch – use where increased access, light and ventilation is needed but not at the expense of security.
Our vehicle Roof windows feature E43 Toughened Glass with Aluminium Frame, they are Wide Opening with Gas Struts and Lock, 70% No-light transmission dark tint. Although designed for the roof of vehicles they can also be fitted as a Side Window, but you will need to carefully drill small drain holes into the bottom of the aluminium frame to discharge water.
Paper Template - To cut out Standard (LR) Sunroof for Land Rover Defender
LRD-SUNRT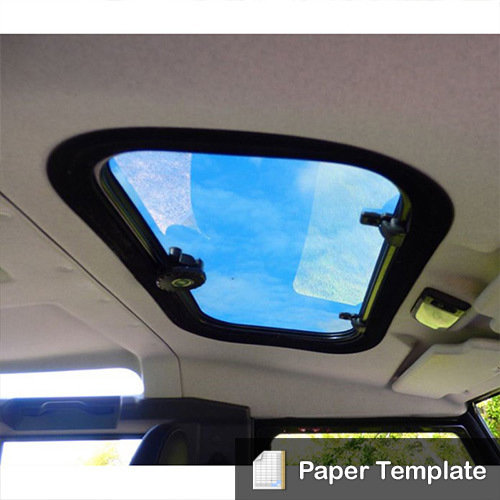 Paper Template - To cut out Standard (LR) Sun roof for Land Rover Defender
FREE DELIVERY ON THIS PRODUCT

Paper template to use as a guide to help cut out the shape for an original Land Rover sun roof to be used on original roof headlining.
NOTE: We do not accept any liability if the hole is cut incorrectly.
We recommend that you check the measurements on the template against the sun roof before you start cutting.