Here we have a Vehicle Shovel (spade) complete with mounting brackets. it is ideal for working vehicles or for touring, off-roading, leisure vehicles etc. Ideal for Land Rover Defender, but could be fitted to many vehicles – farm vehicles, horseboxes, camper vans, motor homes, canal boat, trailer, quad bike, etc. It is made of aluminium with a plastic handle. Includes rubber mounting and securing brackets. Easy to fit anywhere in or on a vehicle.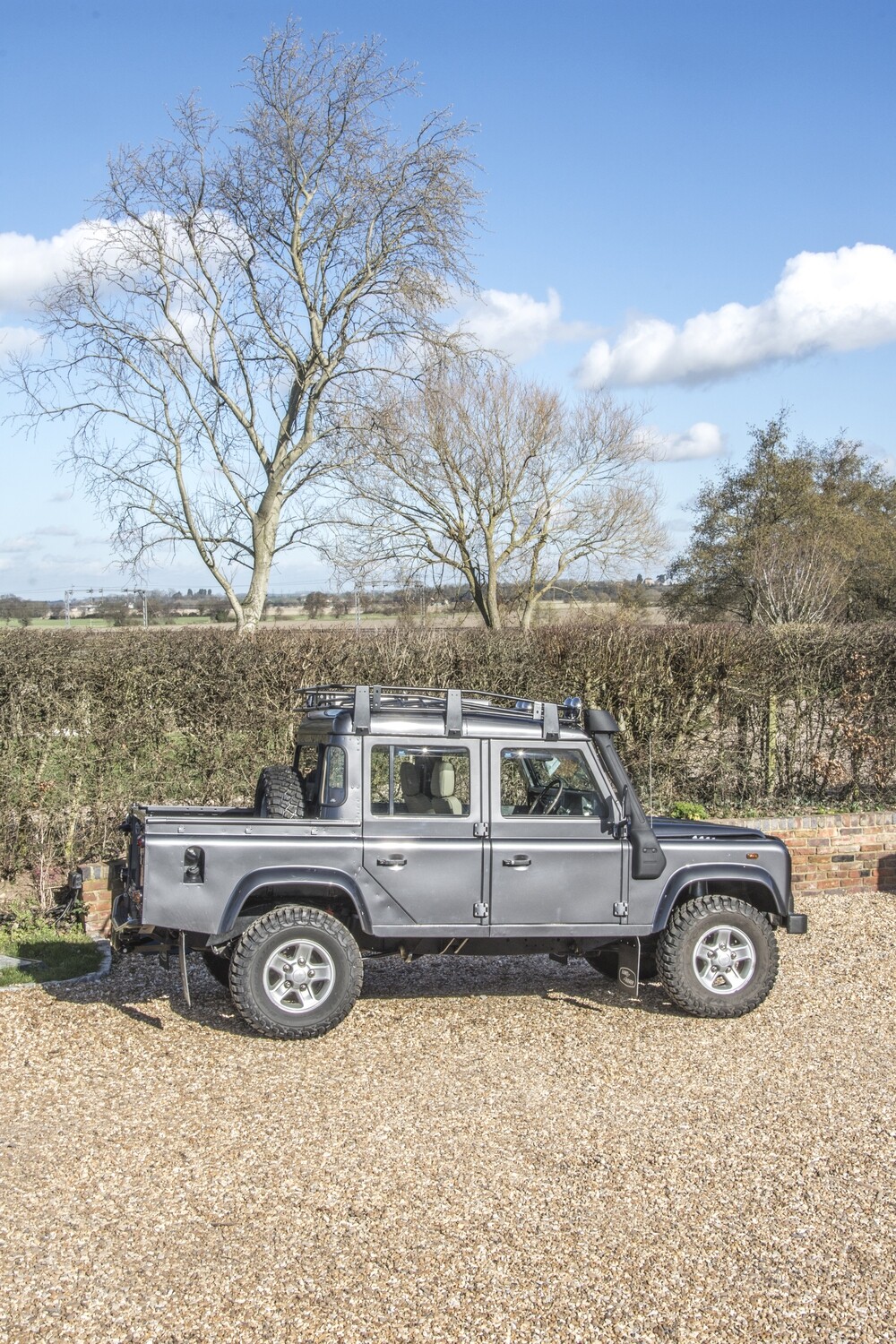 2002 Land Rover Defender 110 TD5 Double-Cab - FOR SALE
SKU 110-DEF-TD5-DOUBLECAB
Product Details
2002 Land Rover Defender 110 TD5 Double-Cab - FOR SALE
DO NOT BUY ONLINE VIA WEBSITE, PLEASE GIVE US A CALL ON +44 1543 254507

£28,750
(Note: No VAT on this Vehicle, ignore website price)

This is a unique restoration vehicle, expertly overhauled by the Masai4x4 at their workshop in Lichfield, Staffordshire. Originally used as a demonstrator for the Masai4x4 range of products, this car has been totally restored inside and out. The result is "one-of-a-kind"
Structurally, the car has been overhauled, the chassis has been cleaned down, repaired and undersealed. Rear Cross member, cross bars and floor panels have been replaced.
The drive quality has been improved with the fitting of a new suspension kit, bushes and springs. Full Dynamat sound deadening has been fitted throughout and the fuel tank replaced along with a fuel tank guard.
All windows, window seals and doors have been replaced and the exterior body work has had a full respray, the look of the car has been completed with the fitting of BF Goodrich Tyres, Boost Alloys and a Masai steering guard
This seating has been completely re-trimmed with Masai branded cream leatherette seat covers with black piping, matching wool carpets and suede headlining. Front and rear heated seats provide additional comfort in an already luxurious interior. Attention has been paid to the driving experience, a servo-clutch upgrade to improve gear changes and a double-DIN conversion has been undertaken to allow connection to modern infotainment systems, Bluetooth/ hands free and rear parking camera. Audio has been updated to include surround sound speakers and pioneer sub-woofer to give high quality audio playback way beyond the level you would normally find in a vehicle of this type.
The interior look is completed with the Aluminium Billet Trim on gear stick, transfer lever knobs, air vents and slots, door handles, seat adjusters, fuse box screws, fan controls, headlamp switches and column stalk ends.
Another unique feature of this vehicle is the global electric window controls which allows the control of both front and rear electric windows from the front.
For the Landy Owner who is a fan of the outdoors, this car comes with a roof rack complete with ARB Awning and light kit.
It is rare that a restored vehicle of this quality with so many individual features comes on the market.

Mileage: 156,500
MOT: Upon sale
Previous Keepers: 4

Summary Of Work Undertaken:
Masai Cream Leatherette Seat covers with Black Piping
Fully Carpeted Through out
Masai Suede Headlining
JVC Double DIN Conversion Kit with Rear View Reverse Camera
Pioneer Sub-Woofer and Speaker System
Aluminium Billet Trim on gear stick, transfer lever knobs, air vents and slots, door handles, seat adjusters, fuse box screws, fan controls, headlamp switches and column stalk ends.
ARB Awning with Light Kit
Boost Alloys
BF Goodrich Tyres
New Suspension Kit
Masai Steering Guard
Servo Clutch
Heated windscreen
All new windows
Full Sound deadening dynamat
Total body respray
LED lights throughout
Lynx Eye Headlights
This is vehicle currently has a private plate which is not included in the sale. The original plate is BD52WKO
Save this product for later