Sunroof - 810 x 477 mm - DARK tint
DEF810x477-SR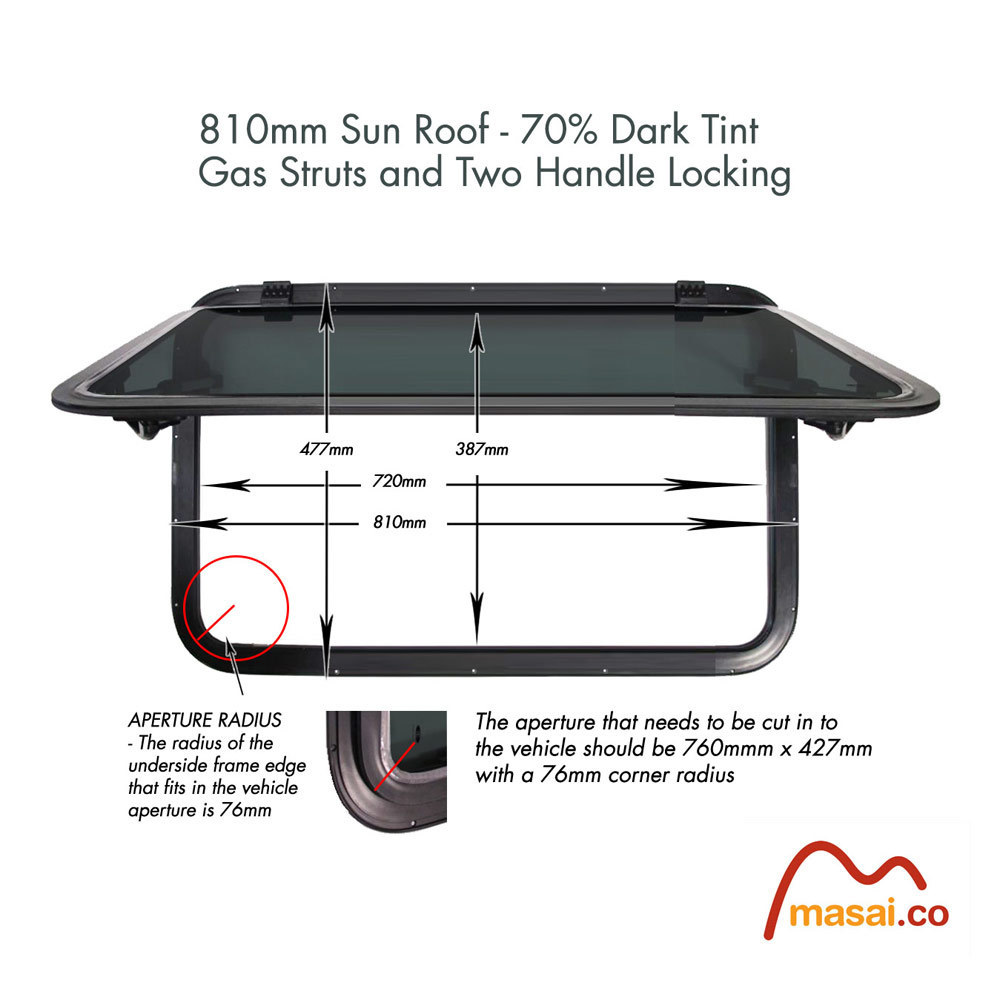 Sun Roof - 810 x 477 mm - DARK tint for all kinds of vehicles
This Sunroof has a variety of uses where increased access, light and ventilation is needed but not at the expense of security.
Includes Internal Bezel Trim (aluminium L section 20mm x 20mm, black powder-coat paint). This bezel can be used as a template to cut out the aperture.
Once you have cut the correct shaped aperture for the Sun Roof, you will need rivets and silicone sealant to attach the Sun Roof.
Please block the drain holes with silicone sealant when used horizontally on a roof. This Sun Roof can also be used vertically on its side - in which case do not block the drain holes.
If you need the Sun Roof completely wide open the gas strut brackets can be unscrewed from the frame.
PLEASE NOTE: You need to abide by all laws, regulations and standard practices with regard to the fitting and usage of these windows.
Includes two Gas Struts for smooth opening and closing.
Two handle locking with keys.
The maximum amount these windows open is as seen in the above photo and is 200mm from the vehicle body.
Measurements: 810mm x 477mm external max.
The internal area is 720mm x 387mm (see diagram).
The size of the aperture you need to cut out is 760mm x 427mm (see diagram).
The corner radius of the aperture you need to cut out is 76mm (see diagram).
Black powder-coat painted aluminium frame.
Includes rubber seal and internal bezel.
E43 4mm toughened safety glass.
70% No-Light transmission Dark Tint.
Factory prepared tint - not a stuck on film.
Easy to fit DIY.
Fitting service also available - just call.
Price is for one Sun Roof.
Can be fitted to :
Land Rovers and other 4x4.
Other Shooting/Leisure vehicles.
Trucks with Sleeping Pods.
Coaches and Lorries.
Horseboxes.
Motor Caravans / Motor Home.
Towed Caravans.
Porta-cabins / Mobile Buildings / Other Enclosure.
Sailing Boats and Narrow Boats as a Deck Hatch possibly - call to discuss.
Optional extras

Rivets and Sealant.
Download ......Fitting Instructions
Note: These fitting instructions are NOT actually for this specific window but the principles are the same.
Add Rivets and Silicone Sealant
No (0) Yes (12.5)