Wide Opening Roof Window / Shooting Hatch / Deck Hatch - 810 x 600 mm
DEF810x600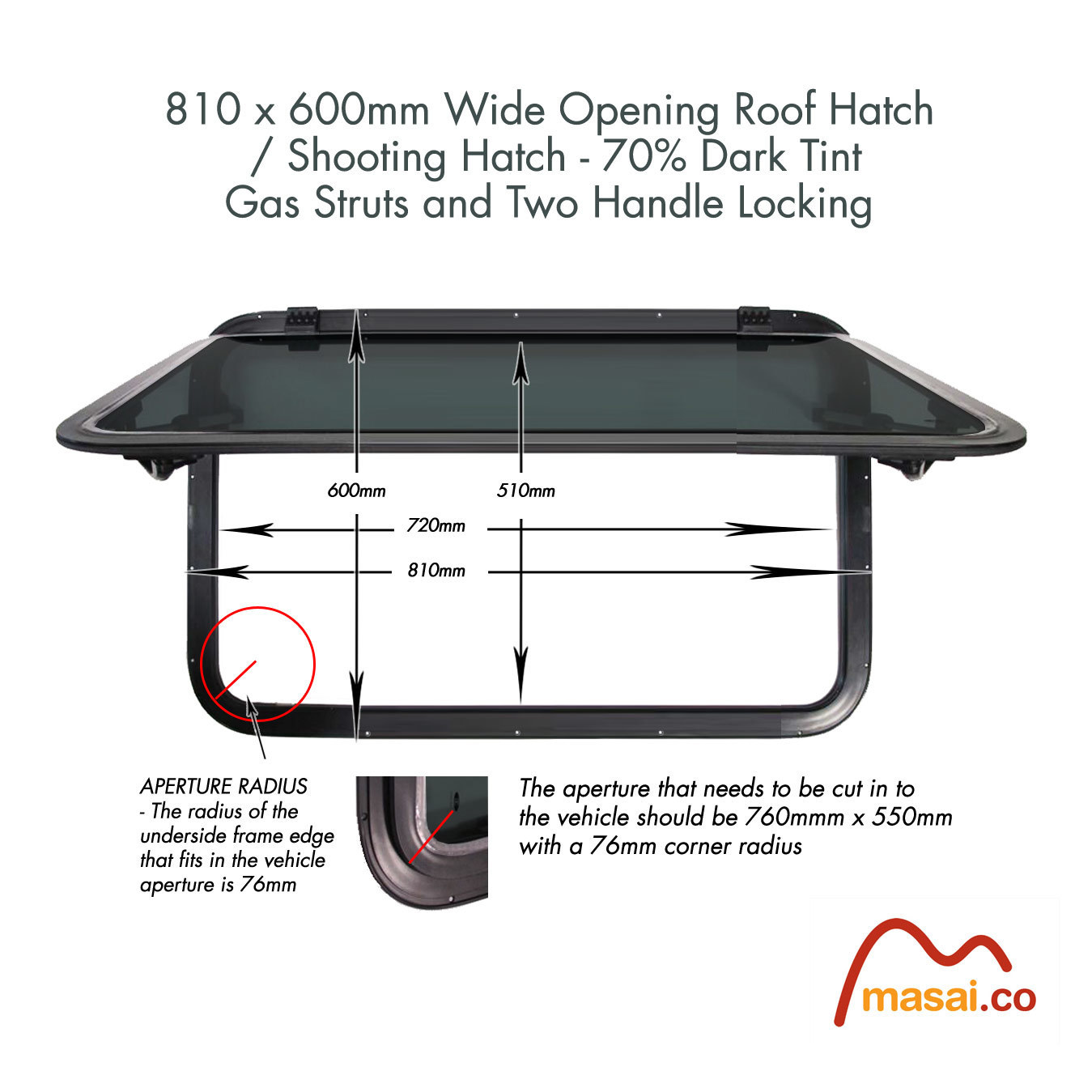 Wide Opening Roof Window / Shooting Hatch / Deck Hatch - 810 x 600 mm
E43 Toughened Glass with Aluminium Frame


Wide Opening with Gas Struts and Lock

70% No-light transmission dark tint

810mm x 600mm

Variety of uses where increased access, light and ventilation is needed but not at the expense of security.
Although it is designed for the roof of vehicles it can also be fitted as a Side Window, but you will need to carefully drill small drain holes into the bottom of the aluminium frame to discharge water.
Includes Internal Bezel Trim (aluminium L section 20mm x 20mm, black powder-coat paint). This bezel can be used as a template to cut out the aperture.
Once you have cut the correct shaped aperture, you will need rivets and silicone sealant to attach the window.
Features
Measurements: 810mm x 600mm external max
The aperture that you cut out should be 760mm x 550mm
The internal area is 720mm x 510mm (see diagram)
The aperture of the cut out radius needs to be 76mm (see diagram)
Black powder-coat painted aluminium frame
70% no light transmission dark tint to reduce sunlight glare
E43 4mm toughened glass
Two gas struts for smooth opening and closing
Two handle locking, with keys
If you need it completely wide open the gas strut brackets can be unscrewed from the base (see thumbnail)
Includes rubber seal and internal bezel
Can be fitted to the roof of:
Land Rovers and other 4x4
Other Shooting/Leisure vehicles
Trucks with Sleeping Pods
Coaches and Lorries
Containers/Sheds in Gardens
Horseboxes
Motor Caravans / Motor Home
Towed Caravans
Mobile Exhibition Trailer
Porta-cabins / Mobile Buildings / Other Enclosure
Sailing Boats and Narrow Boats as a Deck Hatch possibly - call to discuss
Add Rivets and Silicone Sealant?
No (0) Yes (12.5)