Masai Vehicle Accessories and Parts
Masai Zeppelin - Tinted Windows for Land Rover Defender 90 and 110
MZepp-F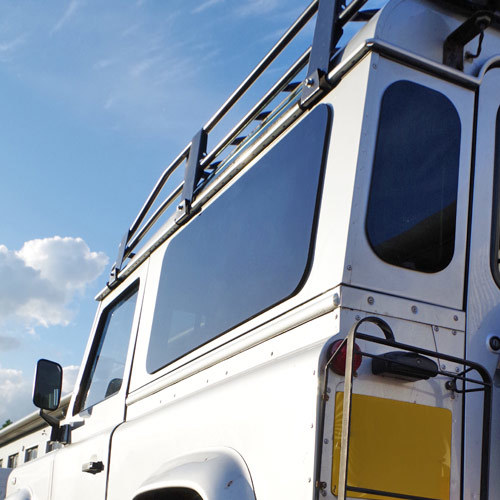 Panoramic Tinted Windows for Land Rover Defender
Masai Zeppelin Bonded Tinted Windows for Land Rover Defender 90 and 110
A Masai® flagship product.
Similar to the original Masai Panoramic Windows only there is less glass and the corners are rounded, we've also designed matching round-cornered quarterlight windows too. See thumbnail photos.
Two versions - Locking sliding windows OR Fixed windows with no opening section.
Side windows are sold in pairs, as are optional quarter lights.
The price is for pairs - offside and nearside.
Innovative and exclusive, future-proof design.
Increases resale value of your vehicle.
70% no-light transmission factory prepared privacy tint.
E43R approved 4mm toughened safety glass.
European Commission Directive 2001/92/EC, Regulation No 43 of the UN/ECE.
Reflects heat and reduces glare.
Premium build quality.
Leak proof, draft proof.
Kit includes primer, a special silicone adhesive, template and fitting instructions.
Silicone adhesive heat tolerance is minus 40 to plus 90 degrees C.
Fitted in just a few hours DIY.
Windows Fitting Service available - just call us.
Fits all Land Rover Defenders, if you have another type of vehicle just call and we can discuss.
Use to replace standard Land Rover Defender side windows, part numbers: MUC3766 superseded by MWC4734, MUC3767 superseded by MWC4735.
Cost Options:
Side Windows Type - Fixed or Lockable Slide Opening.
Bonded Tinted Quarter Light Glass - With or without matching pair of Zeppelin Rear Tinted Bonded Quarter Lights.
Tinted Rear Door Glass - With or without heated tinted Rear Door Glass.
REAR GLASS NOTE : If you purchase the rear glass too - Carefully remove existing rear door glass without damaging the rubber - as you will need to re-use it. Carefully remove brake light including brackets from old glass as you will need to glue to new glass.
Side Windows Type?
Fixed (0) Slide Opening (83.33)
Add Tinted Rear Quarter Lights?
No (0) Yes (104.17)
Add Tinted Heated Rear Door Glass?
No (0) Yes (112.5)
Year?
Pre 2002 (0) Post 2002 (0)
---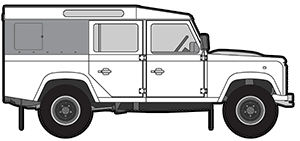 Land Rover Defender Upgrades, Enhancement Accessories and Parts
Welcome to the Masai® Omega Automotive eStore. We design and manufacture a wide range of high-quality vehicle upgrades, enhancement accessories and parts for the Land Rover Defender, 90 and 110, particularly windows; but have a look around our website – we also have Defender roof racks, LED and HID lights, spare wheel carriers, seat covers, steps, lamp guards, mirrors, treesliders, winch bumpers, etc.
One of our flagship products is our own-design Masai® Bonded Tinted Panoramic Windows for the Land Rover Defender, 90 and 110. The dark-tinted toughened glass side panel windows increase your Defender's privacy, security and value! As featured on exclusive Nene Overland Defender Icons.
Windows for Horseboxes, Vans and Minibuses
We also manufacture and sell Horsebox Windows and Hatches, Luxury Horsebox Bonded Windows, Van and Minibus Bonded Windows and Coach Windscreens.
Vehicle Lights – LED and Xenon HID Lights
We have a large range of premium-quality Driving Lights, Work Lights and Spot Lights. Some are modern low-power-consumption LED Lights, and others are high-luminosity Xenon HID vehicle lights. All lights are harsh environment compliant to IP65 or IP67. Rugged waterproof diecast aluminium housings (some ABS), spot beam and flood beam, various wattages from 15 to 150 and a wide voltage range from 9v to 32v. NEW for 2014 are the NAS LED lights for Land Rover Defenders, clear sets and coloured sets for all post 1983 90 and 110, include plinths, E marked (EU approved) and SAE approved. They provide increased visibility (brighter than standard bulbs) and they enhance and modernise the look of your Defender, easy to fit DIY.