Puma Bonnets for Land Rover Defender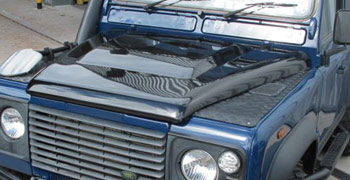 Suitable for all Defenders from 200tdi to Puma models.
We have both genuine OEM Land Rover Puma Bonnets made of aluminium (part number BKA710140), and cheaper aftermarket versions – both standard and reinforced.
The aftermarket version Land Rover Defender Puma Bonnet is made of GRP – Glass Reinforced Plastic with steel fixtures for original fasteners; it is durable and flexible for heavy use. It is light-weight compared to original aluminium Defender bonnets – the net weight is 10KG. Noise transmission is much less than the OEM aluminium version. It will reduce the engine noise.
NOTE : Both types are unfinished – meaning they require some filling, primer and top coats of paint.
Puma Bonnets
Puma Bonnets for Land Rover Defenders