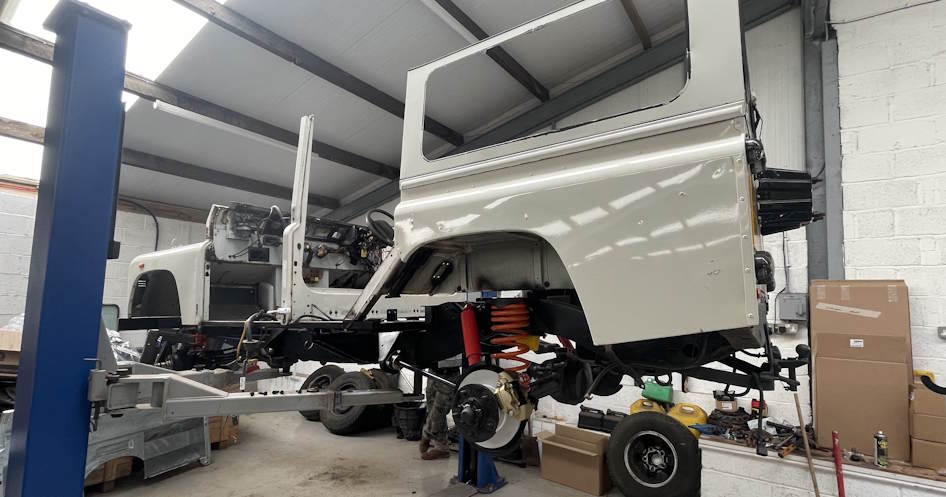 Your Journey Starts Here
At Masai4x4, we understand the passion and commitment that goes into rebuilding a Land Rover Defender. Whether it's a labour of love or a professional project, a Defender rebuild is a journey, and we're here to guide you every step of the way.
The Ultimate Rebuild Experience
We've spent years designing and manufacturing the highest quality parts and accessories for Land Rover Defenders. Now, we're leveraging our expertise to support you in your own rebuild projects. From sourcing rare parts to choosing the right upgrades, we'll help you navigate the complex process of rebuilding a Defender.

Quality Parts for Your Defender Rebuild
Our extensive range of parts – from our exclusive Masai® Bonded Tinted Panoramic Windows and roof linings, to our diverse selection of lights – ensures you have everything you need to undertake a successful rebuild. We also offer a comprehensive selection of roof racks, spare wheel carriers, seat covers, side steps, rear steps, lamp guards, Tree Sliders, Winch Bumpers, and much more. Each product we offer is designed to enhance the functionality and aesthetics of your Defender, so you can build the vehicle of your dreams.
Expert Guidance
Our team of experienced Defender enthusiasts is always on hand to provide expert advice and guidance. Whether you need help choosing the right parts for your project, advice on installation, or tips on maintenance, we've got you covered.
Success Stories
We're proud to have supported numerous Land Rover Defender rebuilds over the years. Check out our case studies to see some of the incredible transformations our customers have achieved using our products and guidance.
Start Your Rebuild Journey Today
With Masai® 4×4, rebuilding a Land Rover Defender is more than just a project – it's a journey. Start your journey today, and let us guide you to your dream Defender.
---