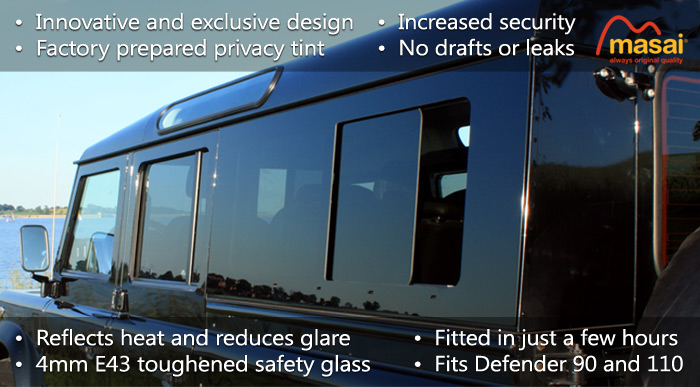 *** See Photos of Masai Panoramic Windows fitted to various customers' Defenders
*** See Photos of Masai Panoramic Windows on a wide range of Defender body colours.
*** See our the Fitting Instructions with Video for our Panoramic Windows.
*** Masai Panoramic windows are a special feature of some new Nene Overland Defender Icons, see photos.
Premium Quality and Innovation
We not only designed the Masai® Panoramic Tinted Bonded Windows to enhance the look of your Defender – we also manufacture them with premium quality materials.
No need to find a distributor or shop – you buy directly from us, and only from us – a manufacturer with a long pedigree of European automotive experience.
Masai is a retail brand name of our family company Omega Automotive Ltd. Since 1953 and through 3 generations of automotive engineering – we have manufactured and supplied to many large automotive companies – toughened glass is a particular specially.
Masai Panoramic Bonded Landy Windows are a perfect example of how a great idea leads to a great product that not only looks good, but performs to high standards.
Feature Highlights
4mm toughened (tempered) safety glass E43R – 00320 DOT6. European Commission Directive 2001/92/EC, Regulation No 43 of the UN/ECE – we put safety standards first.
Our glass is manufactured in Europe and is not a cheap Chinese import.
Light-reflecting, glare reducing and heat-absorbing glass – especially important when touring hot countries
The "slide opening window" version has a high-quality high-security locking system. Smooth sliding action – no leaks, draughts or rattles.
High quality factory-prepared dark tint – NOT an attached film which can be scratched or peeled off
The specialist silicone bonding adhesive we supply can tolerate a wide temperature range of minus 40 to plus 90 degrees centigrade.
Masai Panoramic windows include an internal aluminium frame which is factory-bonded to the tinted glass. It is original Land Rover quality and fits exactly in the window aperture. It has a tough satin black thermoplastic powder coat paint finish. Both the sliding and non-sliding versions have this frame.
Windows for Land Rover Defender 90 and 110 Hard Top or Station Wagon
Masai Panoramic Windows are specially designed for all versions of the Land Rover Defender 90 and 110 ranges, 1983 onwards – Station Wagon, County, Panel Van, etc. Our bonded glass may also fit other Landy models E.G. Series III – with panel sides dependent on dimensions and fitting – call us to discuss.
Whether you are looking to update your old Landy glass or convert your panel van workhorse into a family vehicle then our striking and exclusively designed windows are the easy choice.
Beautiful, Minimalist, Durable – Increase Resale Value of your Defender
Fitting Masai Panoramics to your Defender will increase the resale value – particularly if you are converting a Hard Top/Panel Van. Our Landy windows are tough and durable – the tint is factory prepared – unlike film which can peel, scratch or blister off. The special silicone adhesive can tolerate a very wide temperature range. The sliding windows, frame and lock are made to the same or better quality than Land Rover originals.
The edge-to-edge tinted glass design delivers a beautiful, minimalist appeal. The frame can only been seen from the inside. For Defender owners, fitting Masai Panoramics will enable you to take a different view – of your vehicle, and from your vehicle. Looks and Performance all in one package – sleek, rugged and sturdy.
So Masai Panoramic windows are definitely a vehicle enhancement that increases the value of your vehicle – in addition to visual improvement.
Greater Privacy and Security – No Leaks, Rattles & Draughts, Less Heat and Glare
With 70% no light transmission dark privacy tint, which appears as grey with a hint of green, our Panoramic Windows provide greater levels of privacy and a markedly reduced glare – discreet and practical.
In contrast to some standard Defender windows – Masai tinted bonded Landy glass is heat-reflecting, won't leak or rattle, is draft proof and a high-quality high-security locking system ensures our Panoramics cannot be opened from the outside. The Masai rear quarter lights also reduce the low security of factory fit windows which can be pushed in.
Increased Torsional Rigidity
A Land Rover Defender fitted with Masai Panoramic Bonded Windows feels sturdier and is a better drive – as torsional rigidity is increased in the rear half of the vehicle due to the addition of toughed glass.
Choice
As well as a pair of side windows, you can also buy a pair of rear quarter lights to further enhance the look of your defender. You also have the choice of lockable slide opening or non-sliding – just a sleek, tinted glass window – which cannot be opened.
DIY – Easy to Fit
Fitting time is just a few hours and you will be back on the road! Within your windows kit we supply special primer and silicone adhesive, templates and fitting instructions. Watch our video and full instructions to see how its done. Telephone support if needed. Fitting service also available – just call.