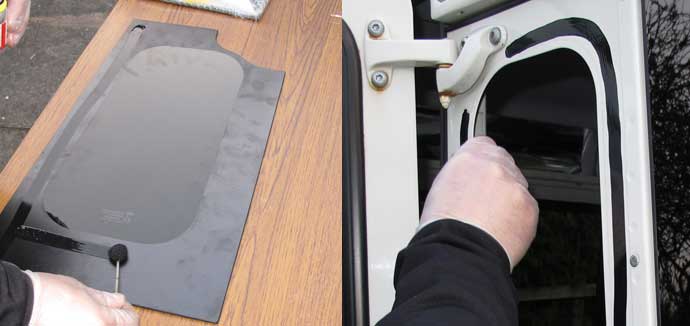 Fitting Masai tinted rear quarter light windows is a lot simpler than fitting the side windows.
If your vehicle does not have rear quarter lights the cutting out process is similar to the method used to cut out the side window apertures.
Hold the new glass windows up to the vehicle to check they fit.
Using an implement such as a large screwdriver take out the rear quarter light beading strip seal from the inside and remove the seal and glass from both sides of your vehicle.
Clean the surfaces around the outside of the window apertures and the inside of the Masai glass.
Put masking tape on the door hinge as it is very close to the action and if not careful you may get primer on it.
Apply the primer in same way as described above – to the side of the Masai glass that will face inside your vehicle (screen print is on the inside) and also apply around the window apertures on the vehicles. See photos.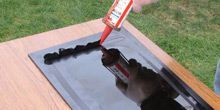 Wait 5 mins – then apply the silicone adhesive to the glass on top of the primer lines and immediately stick the glass over the vehicle apertures. Immediately adjust up, down or rotate a few degrees so that the vertical outside edge of the glass is parallel to the edge of the vehicle.
Apply continuous firm pressure evenly top and bottom for 10 mins.
Safety Precautions
Before embarking on a DIY project, it's essential that you take the proper safety precautions. Wear protective clothing including safety goggles, gloves, hearing mufflers when working with potentially hazardous materials and equipment such as primers, solvents, adhesives, glass, electric drills and saws. Always use the correct tools for the job. It is worth investing in high quality equipment as this will be safer and will probably do the job quicker.
Don't rush as you're more likely to have an accident. Carefully plan the job before you start work. Know your limitations and consult a professional if you are unsure. It's also a good idea to ask someone if they can help you. Unplug drills and jig saws before fitting parts and remove the chuck key before switching on. We cannot be held responsible if you do not follow safety precautions or do not follow instructions exactly.