Over the years we have received many nice feedback messages and customer testimonials about our products and service, however we only started posting them here from May 2012. We also have an eBay shop where we are a Top-Rated Seller with 100% Positive Feedback.
Morning, I just wanted to say a huge thank you for the hospitality when I brought my Defender along for the fitment of side windows. A very professional job and I am pleased with the quality of the work. The onsite facilities are excellent and I managed to get a good few hours work done whilst I waited for my car. Thank you so much again, Sean and Molly. Feb 2017.
Good morning, I am writing to express my immense satisfaction when I recently had my side windows fitted at your premises. The windows are extremely well made but also more importantly the way I was made welcome when I arrived and the care the guys took when fitting them. The other thing is I am convinced that any expenditure with Masai is far exceeded by the improvement in looks and also adds extra value to my defender over and above what it cost. Thank you MASAI!!! David Franklin, Feb 2017.
Hi Guys, Thank you for my Christmas present! My plain-Jane defender 110 hardtop turned into a Supermodel! Masai panoramic windows, Tubular winch bumper, soundproofing, Roof lining etc. The service and quality of work you have carried out has been excellent! Regards, Martin, Jan 2017.
I would just like to say thank you for the absolute transformation of my defender. The windows and sidesteps are both quality items and the service and fitting was superb. I will be recommending Masai to my friends and admiring Defender owners. Tom Lowe, Brewood Staffordshire. Dec 2016.
Hi Ferzan and Sally, Just a note to complement you on your service, the panoramic windows and interior trim on my Defender 90 look fantastic. Excellent courtesy service, the tea wasn't bad either. Would have no hesitation in recommending any future customers. Many Thanks, Mike. Oct 2016.
Many thanks for looking after me and more importantly my X-Tech Defender, on my recent visit to fit rear windows and bulkhead reduction bar. Your attention to detail and quality of equipment supplied and fitted is first class, with everything fully explained prior to equipment installation commencing. Nothing was too much trouble, served with tea/coffee and Turkish snack food (very nice). Would recommend your products and fitting service to everyone worldwide. Brian Wilde, Yorkshire. Sept 2016.
I was very pleased to receive my Puma style reinforced plastic bonnet which arrived yesterday. I delayed opening of the package until today when I could clear space to penetrate the "armour coating" package and reveal the product for the first time. Seldom have I seen such a well wrapped and protected purchase.

Upon opening, I wiped down the bonnet to clear a small amount of dust, which I assumed was left after manufacture and storage. To my delight the bonnet was in perfect condition. I had anticipated that time would be required to fill minor holes and finish off the surfaces for paint preparation. However, there is no work at all to be done on the top or underside and, since my final colour will be Land Rover Jarva Black, I am tempted to fit the bonnet without painting. The finish is just so good that I would require an expert to tell that the part had not been painted.

I discussed the need to paint with Ferzan in your technical department who was extremely helpful, patient and a fine ambassador for your Company.

In short, this was an excellent purchase of a reasonably priced, high quality component. Many thanks for your kind help and super service. Kind regards, Alan Crossley
I can't thank you all enough for sorting out my windows. Windows not yet made for my Kangoo van, but Land Rover Blind Spots fitted, ventilation for the dog and all very happy. Wonderful team (all the staff) very efficient. Thank you. Helen Merron, June 2016.
We have received and already fitted the windows to the Defender 90 and I have to admit that the quality, packaging and windows are fantastic. Well done… for sure we will do more business in the future as we are very happy with this first trial. I will recommend all your products in our future Defender builds. Nikos, May 2016.
Guys… first time buying from you and so impressed with your delivery to the bottom of the planet…. 2 days from processing order to landing in Oz is almost surreal.

The Masai Defender Spare Wheel Carrier is almost fitted… work getting in the way as usual and giving myself time to seal and corrosion proof drilled holes.

Impressed with the quality of carrier but have added spacers and used a 120mm bolt to fix to x- member as 110 mm bolt supplied is too short… not a problem but not correcting these issues would have damaged panel on bottom bracket… still a fan though and have been telling everyone of the great service from MASAI. Dave Jardine, May 2016, Australia..
Many thanks for the safe arrival of my Defender 110 tubular roof rack today! Excellent customer service over a busy bank holiday weekend and truly caring people on the end of the phone. Top notch. Will be recommending you to Hampshire and Berkshire 4×4 response team! TB, Portsmouth, May 2016.
Hi, I visited the workshop around a month ago now. I have found the pre and post sale service absolutely fantastic. The staff and owners went over and beyond the norm. Would definitely recommend them. Hardy Gill, Aug 2015
Hi Sally and Ferzan,

Well it's nearly a month since we visited you to have the side windows fitted to our Defender and I decided to wait until we had used the vehicle for some time with the new windows before emailing you, so that we could give an proper assessment of your products and services. (The proof of the pudding etc..)

We had recently purchased our 110 hardtop Defender with the intention of fitting it out to suit our particular business and recreational needs and had decided the first step was to fit both sliding blind spot and double sliding windows along the sides, with quarter lights at the rear. Having given the matter some considerable thought, we decided to travel to Lichfield to get you to supply and fit all the windows for us and I can honestly say that we would recommend anyone else should do the same.

The 270 mile round trip and overnight stay was more than worth it. We were truly impressed by: the care and attention to detail you took in ensuring the configuration of windows would suit our needs and plans, the high quality of both the windows themselves and the installation work and your hospitality throughout the very busy day when the work was carried out. The vehicle has since been out in driving rain with strong, gusty crosswinds and both the windows and installation have proved faultless.

We'd therefore like to say 'thank you' for all the above and look forward to seeing you again when the next phase of alterations to our Defender takes place. Regards, Ken Paviour. June 2015.
Hi Ferzan and Sally, just a short note to say many thanks for the great product and great service you provided to me this week. After my daughter and I drove to you from Bedford the cup of tea was very welcome on arrival and after a quick chat about the job (and other Defender related items !!) you even gave us a lift to the station which was most unexpected. When I returned the vehicle was ready before time and the fixed panoramic windows looked stunning in my brand new defender, from the inside and out – I am very very pleased !! Incidentally I had to take the vehicle back to the Land Rover dealer today, and some technicians standing outside having a break said they didn't realise the panoramic windows were a Land Rover option on the Defenders now – testament as to how good they look and suit the Defender I feel !!!! I will be back for some more bits soon. D Lewis. 12th Feb 2015.
Ferzan and Sally, thank you for a level of care and service that must be unique today. Making arrangements months in advance from 8000 miles away, ordering parts to arrive on time and retaining flexibility with good humour and a sincere friendly approach were appreciated, as was your effort to keep us on a tight timeline. Thanks also for helping us with accommodation and transport. Lastly thank you for supplying excellent quality products and for keeping in touch to make certain we felt we had your support during fitting, we regard you as friends. Dez Foster, Feb 2015.
Hi Ferzan & Sally, just like to thank you for a great job in fitting the panoramic windows to my defender Puma 90. Would recommend you to anyone. Thank you for your caring attitude and helpful advice. I will be back for more quality products for the Landy! Your premises to me reflected the work you do; organised, spotless, well presented and impressive. Mark turner, Feb 2015.
Dear Sally, The windows have been absolutely brilliant. I have now covered over 1,000 miles without a rattle and I was really impressed with the efficiency of fitting and product quality. If you ever have an enquiry from the South East and they want to see the product, I'm happy to oblige. Best wishes, Ron Huggins. Jan 2015. Green Tinted Defender side sliding windows.
Hi, I just wanted to say thank you for all your hard work last week. I appreciate you staying on late to get my Defender finished. Will be in touch mid January for some other work. Gary. Dec 2014.
Ferzan and Team. Many thanks for your hospitality while fitting blind spot windows to my 90 last Tuesday, and more especially for taking time to explain the options in windows and fitting positions. The new windows are attracting some attention locally, and I am very happy to recommend you – good products, good service and really nice people to deal with. Regards. Bob Parry. Nov 2014.
Defender Fire and Ice Side Steps – All received and installed. Thank you for your excellent service, product and support. Outstanding Quality on all levels. Kind regards, Forrest McCracken, Sept 2014.
Hi there I just received one of your bonnets and I have to say what a product, fantastic, I am so impressed with it can't wait to fit it at weekend, Cossie, June 2014.
Gday Again 🙂 Yep you have done it again, amazing. The delivery of my spare wheel carrier has arrived, and yes even one day earlier than expected. Thanks Heaps, unbelievable service. I'm sure getting a similar item delivered within Aus wouldn't have been as quick. Thanks again Great service and I reckon products. Good on you All. Greg Mulkearns, Wellington, Australia. 3rd June 2014.
Dear Sally, I must say because we are living in the Dutch Caribbean, we have to order products online from all over the world. It has been a long, long time since I have experienced such service from a vendor. It is amazing. Thank you so much for your help on the phone, your swift order confirmation and to top it all, the immediate refund of the VAT. Again, such a high level of service is very rare and I will highly promote your products and company to all my Land Rover friends in the Dutch Caribbean region. Very well done!!!!!!!!!! Thank you so much & Tropical greetings, Hans Hahnm, May 2014.
Gday to ALL of you at Masai. Thanks, my order has arrived, I can't believe how quick it was. It all looks great, good looking gear, and looks bloody strong. Happy I have chosen Masai for my Winch Bumper and Front Lamp Guards. Looking Forward to my next order, might be a little while but it will be from you. Thanks again, Great service and Products. Catch ya soon. Greg Mulkearns, Wellington, Australia. May 2014.
I ordered your new style Defender lamp guards after investigating the market. Excellent quality and service. Well done and Thanks. Steve McCart, N.Ireland. Mar 2014
(update) I love these guys, very honest and affordable company…. a plus all the way. (Purchased a Defender Puma Bonnet, Striker and Hook kit and Decals). Dave Johnson, Florida, USA, Feb 2014.
Just a quick note to say that my order has arrived (Defender Lamp Guards – front and rear) and I am delighted with it and your speedy service! I shall be recommending for further purchases! Merry Christmas, Lori, Dubai, Dec 2013.
Dear Sally, I just wanted to let you know how satisfied we were with the products that we purchased from you recently. I have fitted them without any problem and the ladder did fit in place of the Land Rover item without any additional drilling. Both products look really nice on the vehicle and have smartened it up no end. We were also very impressed with how quickly you delivered them, I placed the order after 3pm and they were on our doorstep at 10.00 the next morning fantastic service. I will not hesitate in ordering other items from yourselves and recommending Masai to our friends, Best regards, Chris Twitchin, Dec 2013
Very good product and super fast shipper to the USA. I love the Puma Bonnet – it will complete my Defender 90 project. Sally, you were a great help… Thank you everyone at Masai. Dave Johnson, Florida, USA, Dec 2013.
Hi Sally, I have just fitted the long Masai roof rack to my Defender 90, and it looks great, thank you for your help in getting it to me so quickly. Many thanks, A J Monro, Oct 2013
Masai have taken customer service to a whole new level. Having initially spoken to Ferzan by phone and having discussed various options for side and rear windows at length, I called in to see him and view the products first hand. Due to work commitments, it was difficult to get the work completed during the week, so a big thanks to them for giving up a whole Saturday to complete the work. The product quality is fantastic, and Ferzan is a real perfectionist going the extra mile to ensure I was totally happy. The removal of my old windows was more complicated than expected, it was nice that unlike many Land Rover specialists I've used in the past, the job was completed without talk of wanting more money because of the extra labour charges. Having seen other products in the showroom I will be using Masai in the future and can't wait to go back to sample more of the Turkish tea and share further ideas on improving the look of 'Big Orange'. Many thanks and see you and Sally soon. Andy Coxon, Sept 2013.
Just to say a big thank you for the panoramic windows that you fitted to my 110 – it's really transformed not just the look of what was a panel sided defender but the whole driving experience. From inside the vehicle it's much nicer to use the load space with so much more light, passengers can now sit in the back and enjoy the panoramic view and even as a driver used to driving a truck, it's really nice to be able to turn my head and look at the scenery up here in the lake district. As you know I was a bit concerned that the offroading and security would be compromised by the windows, but not a bit of it – the dark glass effectively blocks the view from outside and if I want absolutely 100% then I'll put some blinds up. The glass makes no difference at all to the offroading and I prefer a branch running down the glass than down the painted panel sides. But most of all, I love the look of it – it's transformed a utilitarian, commercial look into something really chic. Everybody loves the look and people even walk over to talk to me about it. Thanks again!" Tim, Flying Oil, Aug 2013
A very friendly and efficient service. Fitted rear and side tinted windows whilst I waited. The product is extremely high quality, and once fitted the irritating rattle of the factory fitted original Land Rover windows had gone. Excellent customer service, they accommodated me at the weekend at no extra cost. Very happy indeed. Gareth Roberts, July 2013
Just a short follow up mail to express my satisfaction with the Sporting Box and its quality. Great product and great service. Have a nice summer. Best regards, Jacob Gulmann, June 2013
Hello there, Just wanted to say 'thank you' for your very efficient and speedy service for our purchase of new Land Rover Defender sliding windows. We managed to get the windows in on Tuesday, in the icy winds and snow showers. They are good quality and look great! I will certainly recommend them to any of our Land Rover friends who want new windows! Thanks again, Pam
We have been really impressed with the quality of our Masai Panoramic windows. They were simple to fit and look absolutely great. I would highly recommend Masai, not just because of exceptional product quality, but also the highly personal service provided by Ferzan and Sally. We are working on a project to convert our 1994 Defender ex-catering unit into a camper/expedition vehicle: our experience of Masai is more akin to working in collaboration with a project partner than a supplier. Ferzan has given us some really useful ideas and we have really benefited from his experience. The Masai steering guard and snorkel are next up on the agenda!" Colin

Hello, I would like to take this opportunity to thank you for your amazing product. We had the rear windows (Masai Panoramic windows) supplied by you fitted prior to having new graphics put on the side of our Land Rover Defender 110. When we saw the windows fitted, we were so happy with them we thought it seemed a shame to cover them up. They are such a quality product. We still decided to go ahead with the graphics and the results were amazing. The Land Rover turns heads wherever we go now. Thank you again for this high quality, great looking product which we cannot recommend highly enough. Many Thanks. Michelle, True Alpine Limited, Aug 2012

I am very pleased with the Masai windows fitted to my rebuilt Defender 90. The windows were pretty straightforward to fit, with only a tiny modification required to one side panel where I suspect the window being replaced was not originally factory fitted and thus didn't quite line up with the inset frame on your windows.

That aside, the glass looks fantastic and has received many positive comments from Land Rover owners and non-owners alike. It definitely sets the vehicle apart from standard 90's. Kind regards, Katy Nicolson, June 2012
Over the last 20 years I have owned a number of Land Rovers. Much to my wife's dismay it has become a passion/obsession, which has continued since the purchase of my treasured silver, 60 plate, 90 Defender (van). A friend of mine had fitted Masai panoramic windows to his 11 plate 110. The windows were not only practical, they also greatly enhanced the overall appearance of the vehicle…..bringing it into the twenty first century. If you're a dog owner, like myself, the sliding windows provide excellent ventilation.

Following research on the internet and checking out "Panoramic Windows" website, I contacted Ferzan and booked in the 90. I arrived at the premises and had a chat with Ferzan and his small team. I also viewed two of the company Land Rovers that had been fitted with the windows. I wasn't about to let someone loose on my twenty grand Land Rover without seeing the product fitted to another vehicle. You only get one chance at cutting out these panels… they don't stick back together.

I personally had my rear window and quadrants fitted. The job took about 3 hours, but you need to allow a further 3 hours so that the glass bonds to the panels… i.e. before you drive it home.

I am extremely pleased with the windows and quality of workmanship. Masai appears to be a quality product, the windows being produced in Turkey, by Ferzan's brother. It is obviously an efficient and well run family business… all concerned appear to have an engineering background, using up to date tools/machinery, with skilled and amiable staff. They also make a cracking cup of tea.

I am currently working towards returning to Ferzan and his team, with view to having the side windows fitted. If anyone is debating whether to have the windows fitted, I can certainly recommend Masai/panoramic. As regards the validity of this testimonial, I am happy to be contacted on the number below to answer any questions as regards the logistics of fitting, etc. Brian Millward, Retired Police Officer, Staffordshire, 9th May 2012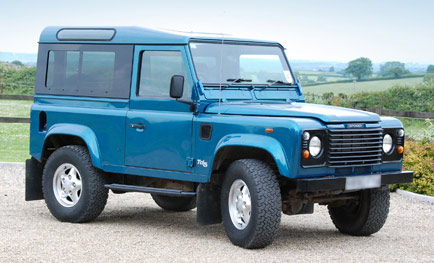 Dear Sally, I promised to let you know how we got on fitting your panoramic windows last weekend and, as the attached pictures demonstrate I think, all went extremely well and I am really delighted with the result. My 12 year old Land Rover now looks like a new model and the rear load space is much brighter inside yet still secure from prying eyes from the outside.

By carefully following your video and printed instructions, there were no nasty surprises during the fitting exercise. We didn't rush it and it took around four hours to complete. The worst job was drilling out the rivets on the side panel braces. After blunting several bits, we resorted to carefully wearing the rivet heads away with a model maker's angle grinder (a Dremel tool which has got me out of a fix on several occasions!). I think they must have used titanium rivets in those days!!

Again, my thanks to you for your help with my order and I shall most certainly pass on your details to anyone I meet who expresses an interest. With kind regards. Alan Wiseman, 7th July 2011
Dear Masai, I am delighted with the rear storage drawers I ordered for my Defender 110 SW. They are solidly built and look the business; sure to be extremely useful for a host of occasions. Masai were a pleasure to deal with and I would certainly do so again in the future. Thank you! Richard Cook, 16th April 2012
Hello there, I recently ordered a set of your "slide-less" panoramic windows for my 110 Defender. Now a colleague of mine "has to have" a set for his 90. Since he lives in Germany, he can also have the new dark back-window you wrote me about. Peter Balzer, Sept 2011
Hi guys, Very impressed with your new tree sliders! If they are half as good in the flesh as they look in the photos I will be buying a set at Billing (black and silver) for my new 2011 Defender 110 Utility. Make sure you save me one! Regards, Mike Stapleton, June 2011
Hi, I'm a very happy owner of your panoramic windows (first in Norway), Espen Hermod Teigland, Jan 2011