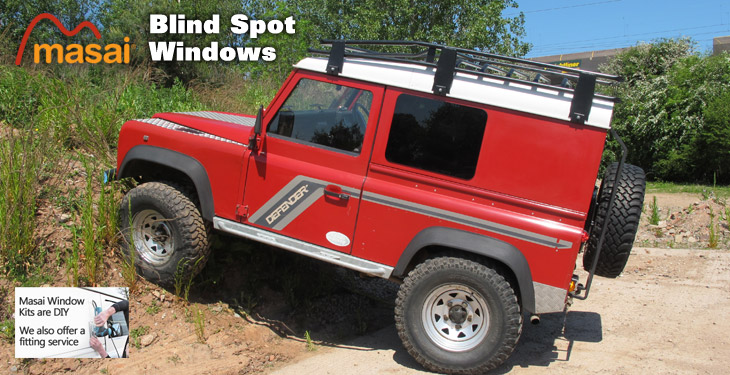 We manufacture and sell dark tinted and silicone bonded Blind Spot Side Windows for panel sided Land Rover Defenders. These very attractive and unique windows are typically sold in pairs – offside and nearside, and not only provide extra visibility but they look great too. They have a 70% no-light transmission dark privacy tint. The tint is factory-prepared – the glass is actually tinted and NOT a stuck on film which can peel off.
WHY NOT GET TWO PAIRS? – Also available as the Masai Tinted Double Side Windows for Land Rover Defenders.
They are easily fitted DIY. View and print the Land Rover Defender Masai Blind Spot Window Fitting Instructions.
Our blind spot side windows are made using E43R toughened safety glass – Masai Omega Automotive has been manufacturing automotive safety glass and many other vehicle parts for many decades and supplies all around the World to various automotive firms.
Fitting to OTHER TYPES OF VEHICLES – If you have a panel sided van or other type of vehicle or enclosure you may also be able fit our bonded tinted blind spot windows – call us if in any doubt.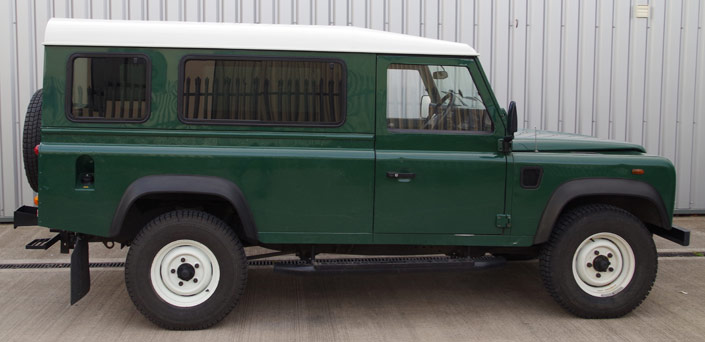 Slide Opening, Dark-Tinted, Blind Spot Side Windows for Land Rover Defender PAIR
SO-BSW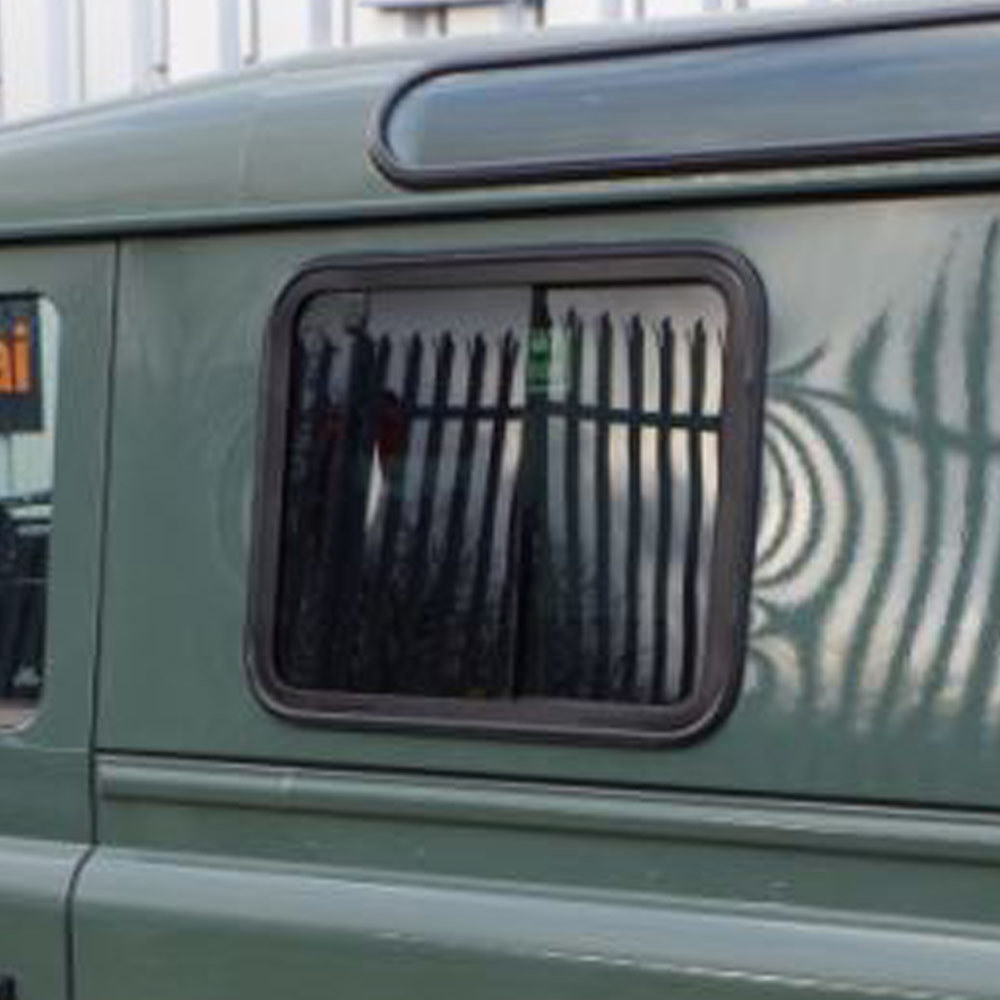 Masai Slide-Opening, Dark-Tinted, Blind-Spot Side-Windows for Land Rover Defender 90 and 110 hard top / panel van (PAIR)

(Can be used on other vehicles too, for example: horse boxes, vans, camper vans, etc - call us to discuss).
Innovative and exclusive to Masai.
Sold as a PAIR.
70% no-light transmission factory prepared privacy tint.
E43R approved 4mm toughened safety glass.
European Commission Directive 2001/92/EC, regulation No. 43 of the UN/ECE.
Reflects heat and reduces glare.
Durable and attractive high quality button locks / lever catch mechanisms.
Premium build quality - manufactured from the finest quality aluminium to ensure profile corners have a smooth edge.
Glass edges are polished.
High quality rubber seals (where glass slides) to keep drafts and rain out and all frames tested for water leakage.
Dimensions
External Dimensions: 560mm long x 455mm high.
Internal Dimensions: 515mm long x 412mm high.
Fitting and Optional Extras
DIY fitting - in 1-2 hours.
Package includes template for cutting out aperture.
Fitting Service available - just call us.
There are two methods for fitting these windows: either rivets or special silicone adhesive.
Optional Extras:
Rivets, Sealant and Edging Trim £15.83 + VAT (Rivet and Seal the Window)
OR Add Silicone & Primer Kit £16.67 + VAT (Bond the Window)
Download Fitting Instructions: Fitting Masai Slide Opening Windows
NOTE: You should also be able to fit these windows to any hard top / panel sided van - just call and we can discuss.
Add Fitting Kit as Extra?
No (0) Rivets & Silicone Sealant (12.5) Silicone & Primer Kit (BOND ONLY) (16.67)