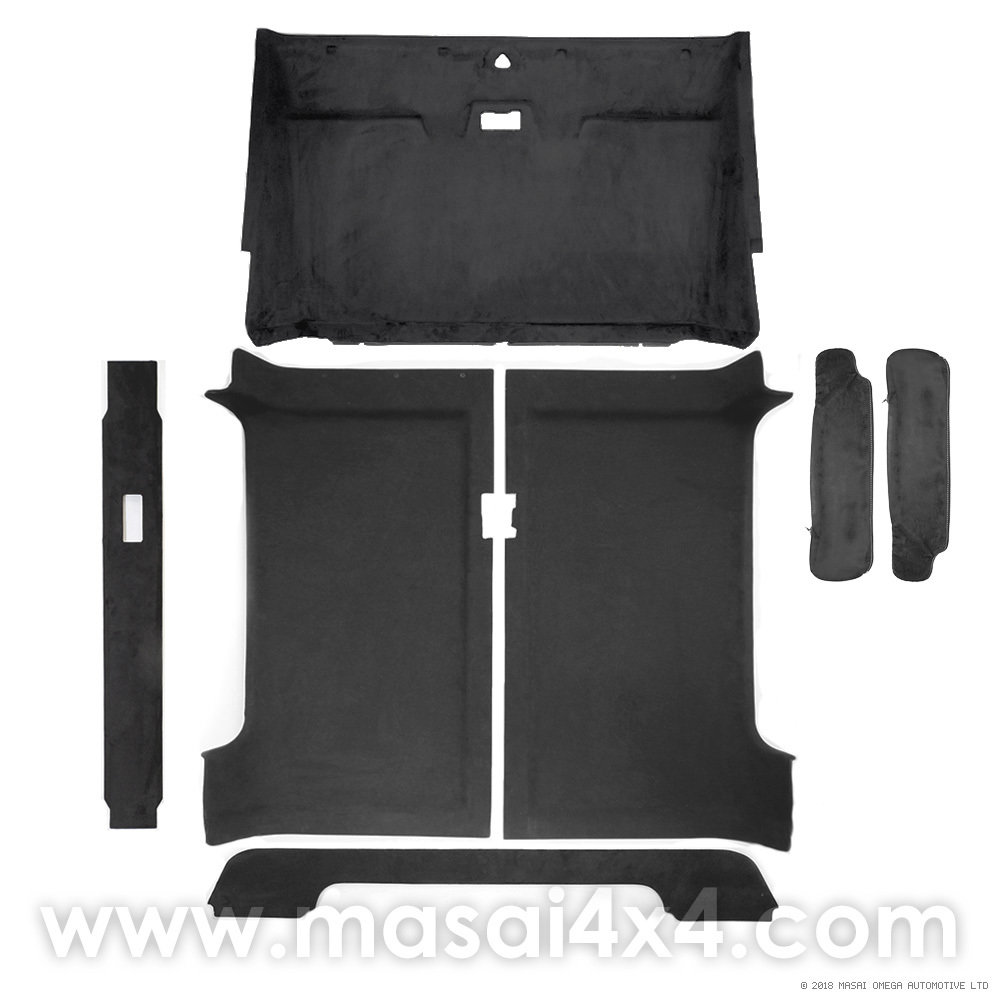 Headlining / Rooflining Kit for Land Rover Defender 90
SKU RHL90-SW-BLK
Product Details
Headlining / Roof Lining KIT for Land Rover Defender 90 Station Wagon / Hardtop
SPECIAL ORDER ITEM
NOTE: There is a 4 week lead time on our roof linings. However, your chosen colour choice may already be in stock, therefore you will receive it within 2-5 working days after payment.
The Roof Lining Kit includes:
Front Piece (Not for Defenders with Sunroof, although hole can be easily cut out)
Rear Piece (LH and RH) (Not shown in photos yet)
Connector Strip for Rear
Telephone Piece
Pair of Sun Visor Covers (Optional Extra)
20x Fir Tree Clips for fitting, to be pushed through the pre-made holes in the lining pieces into the existing holes in the roof of your Defender.
NOTE: We have split the rear piece in two, for easier fitting and shipping around the world.
Our Defender 90 Roof Lining is manufactured in-house by well experienced Masai® craftsmen in the automotive trimming business. All our NEW roof lining shells are produced exactly to the Land Rover roof lining shape.
Made from special GRP, this gives a much better rigidity than the Land Rover thermoplastic biscuit material. This will also provide a much longer lasting roof lining, and will no longer absorb any roof condensation that causes the common problem of sagging over time. The lining has a plush suede-like finish for that extra touch of style and is hand glued to each individual roof section.
First, remove your old head lining, the telephone piece first, then the back section and interior lights, the sun visors, the rear-view mirror then the front section.
When fitting our head lining, start from the front and work backwards.
Fit the front piece using the fir trees provided in your kit.
Fit the left hand and right side pieces in the back the same way.
Fit the telephone piece.
Fit the metal strip provided that covers the split down the middle of the rear section.
If your existing holes don't match up with our head lining, then you will need to drill additional holes (I'd suggest you drill the holes in the headlining to match your Defender, instead of drilling in the Defender roof to match our headlining). We purposefully covered all the pre-drilled holes with material for this reason.
Defenders have changed a lot over the years and Land Rovers kept messing with the holes locations!
If you are upgrading your Defender from a Van to a Station Wagon we would recommend that you purchase the interior light as the new roof lining will have a hole cut out for it. The interior light fitting and it's bracket will also help secure the roof lining properly.
You may also need a pair of grab handles to help secure the telephone piece above the rear door.
If you would like some help, we offer a fitting service for this product, please call us on 01543 254507 for a quote.
Genuine Land Rover Part Numbers
The original Land Rover part numbers for the BLACK version are as follows:

LR077717

- Front Headlining section (No Sunroof cut out)

LR063678

- Back Headlining section
LR063680 - Telephone Piece
Save this product for later