Electrical components for Land Rover Defender. Lights, wiring and other electrical components for Land Rover Defenders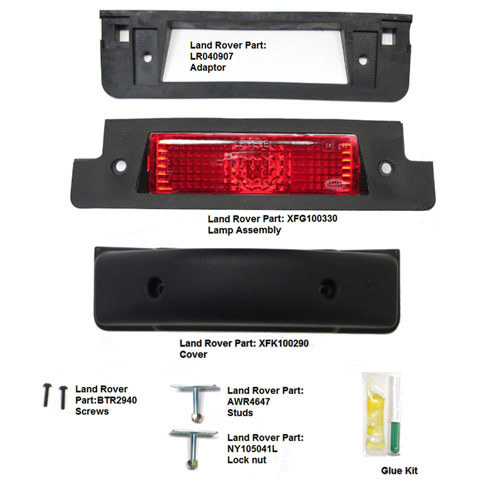 Rear High Level Brake Light - Complete Kit - Land Rover Defender 90/110
SKU Def-BLA
Product Details
Rear Brake Light Assembly Kit - Land Rover Defender 90/110
This high-level brake light fits to your rear door glass window. The studs are manufactured by Masai, and are an improved design over Land Rover studs to bond to the rear door glass more efficiently.
This kit includes Land Rover parts and numbers:
LR044451 Lamp Assembly & Bulb (Genuine Land Rover Part)
XFK100290 Cover (Genuine Land Rover Part)
LR040907 Rubber Adaptor (Aftermarket)
AWR4647 Studs (Manufactured by Masai)
NY105041L Lock Nuts
BTR2940 Screws
Glue kit (Epoxy Resin Glue) for studs to rear door glass
This rear brake light kit can be fitted to all post-2002 Land Rover Defenders.
You can also fit to pre-2002 vehicles if you also buy our rear heated glass.
Save this product for later