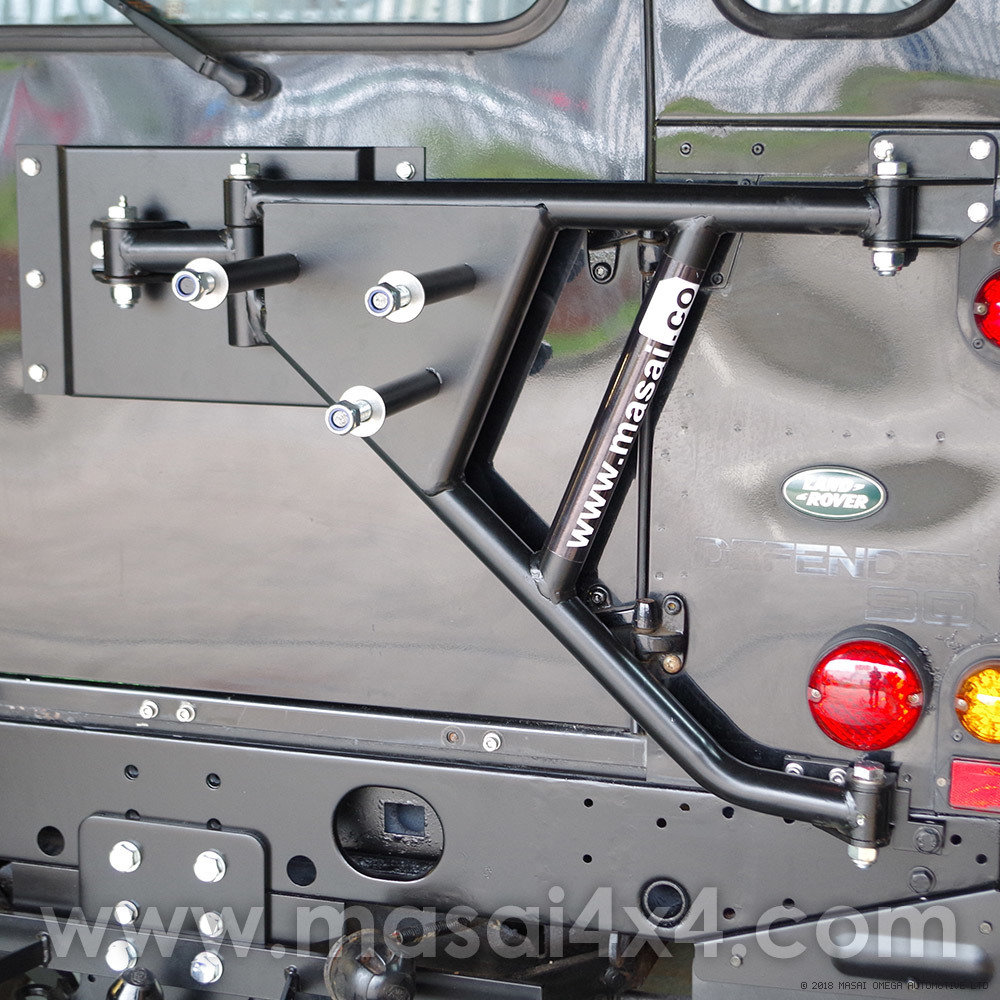 Spare Wheel Carrier - Extra Heavy Duty, Chassis Mounted for Land Rover Defender / Series 3
SKU KTB500040-X-Masai
Product Details
Spare Wheel Carrier - Extra Heavy Duty for Land Rover Defender 90 / 110 / Series 3 (Chassis Mounted)
Suitable Vehicles:
Defender 90 - all models
Defender 110 - all models
Series 3 - See details below on fitting. - STRENGTHENING KIT will NOT fit.
The Masai Large Extra Heavy Duty Defender Spare Wheel Carrier fixes to the chassis to minimise rear door hinge strain.
Other benefits of this Masai Large Extra Heavy Duty Defender Spare Wheel Carrier include an offset position to maximise access to towing and the rear door. You will also benefit from an increased rear view over centre mounted spare wheel carriers.
NOTE: There is a indentation on the back of the lower arm of the spare wheel carrier, this is there to avoid the bottom hinge of the rear door.

Special hinged bushes with grease nipples to provide long-life and serviceable parts.
Laser-cut with superior clean welding.
High-strength steel construction.
Zinc coated for long life. (Unlike most other competitors spare wheel carriers, which have zero rust protection)
Black automotive powder-coat paint finish for durability.
Comes complete with fitting kit.
Can be fitted with a NAS Rear Step without making alterations (see thumbnail photo).
You can purchase an optional Strengthening Kit for Pre-2002 rear doors. (See thumbnail photos).

Replacement part number KTB500040.
.... Download Large Spare Wheel Carrier Fitting Instructions.
.... Download Strengthening Kit Fitting Instructions.
Fitting to Series 3 Models
1. You will need to drill just one hole in the rear crossmember for the bottom hinge of the SWC. (See last photo in thumbnails for reference)

2. A longer bolt will be needed for this hole created.
3. Then shim the the lower hinge with 2 Grade 8 washers to fill the gap between the hinge and the crossmember.

Save this product for later