Tubular Winch Bumper for Land Rover Defender (Masai Style)
M-TWB-01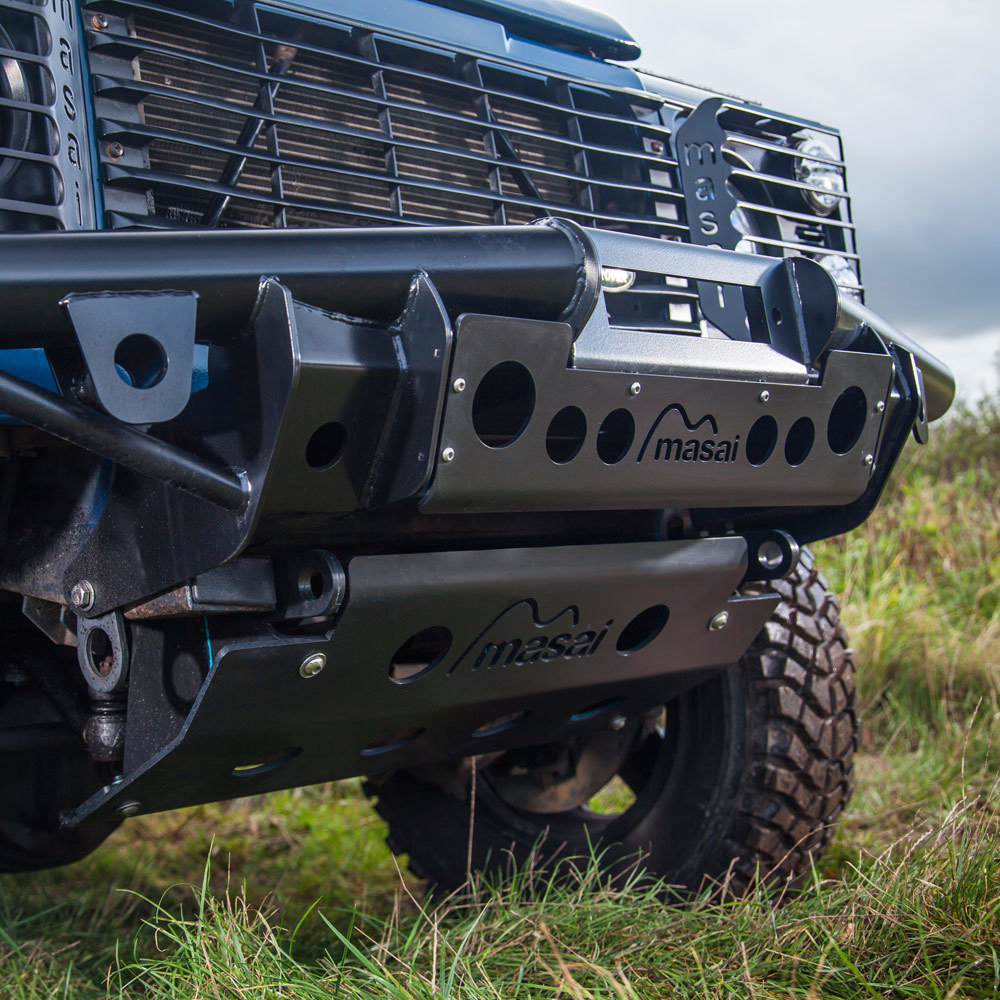 NEW STYLE Masai Tubular Winch Bumper for Land Rover Defender 90 or 110
NEW FITTING INSTRUCTIONS: DOWNLOAD LINK

Front bumper to fit a winch to, fits most winches, with or without air con.
Suitable as a front bumper even if you are not fitting a winch.
Fits Land Rover Defender 90 and 110.
Zinc plated steel base.
Black automotive powder-coat paint finish for durability.
You can respray if you want a different colour.
The holes for fitting a winch to are 12cm x 26cm apart (see thumbnail on the right).
Optional Extras:
You can also fit our Steering and Sump Guard with this Winch Bumper (see thumbnails photo). The Steering Guard is not included in the main price but can be chosen as an optional extra above.
You will need to fit our A/C Extension Bracket if you have Air Con. However if you are not fitting a winch you can still purchase this winch bumper and you don't need the extension bracket.

Add 6mm Steel Steering Guard?
Add Extension Bracket Kit for Air Con?
Yes (32)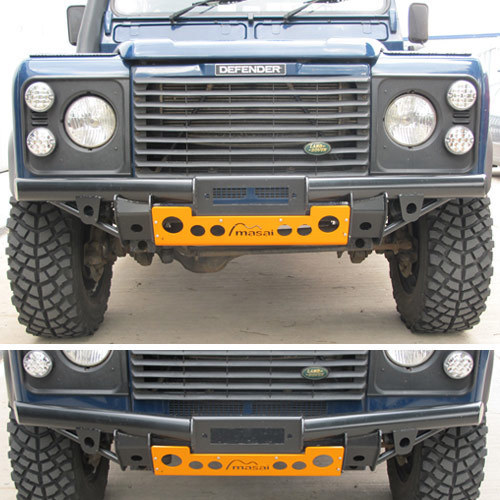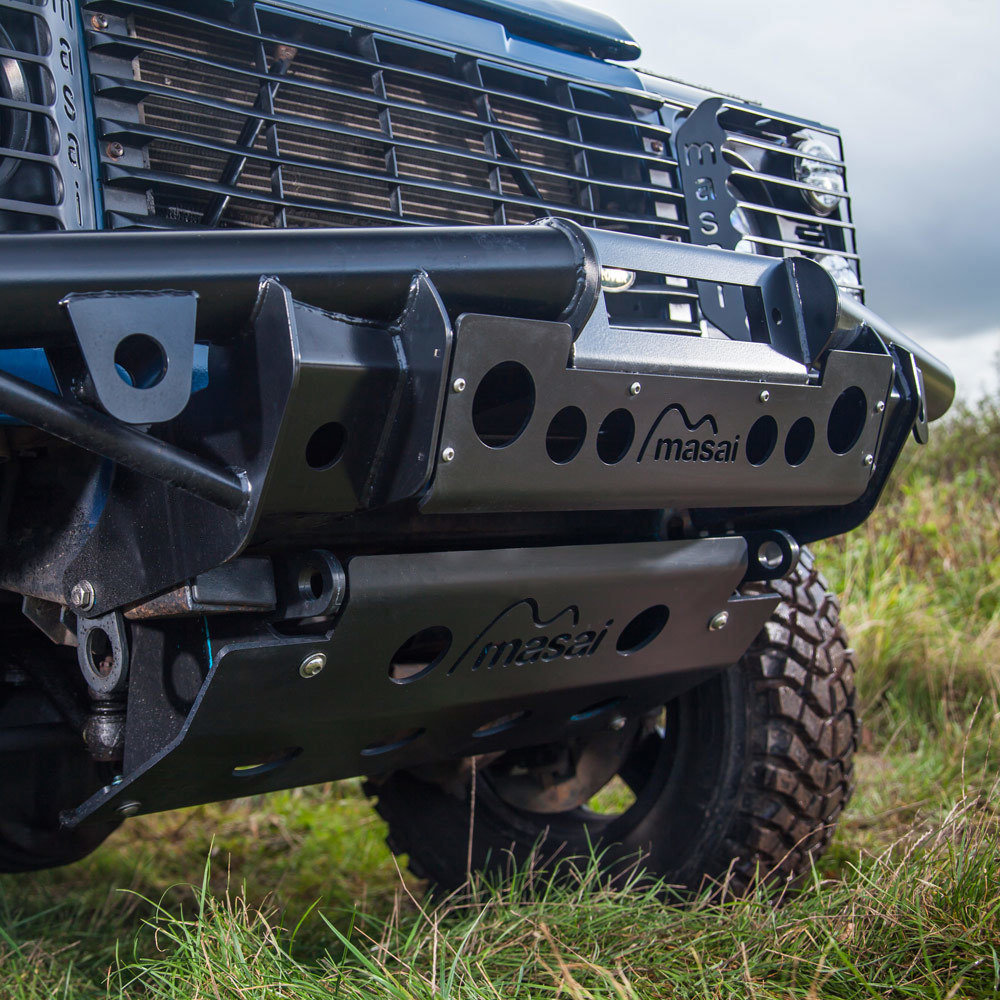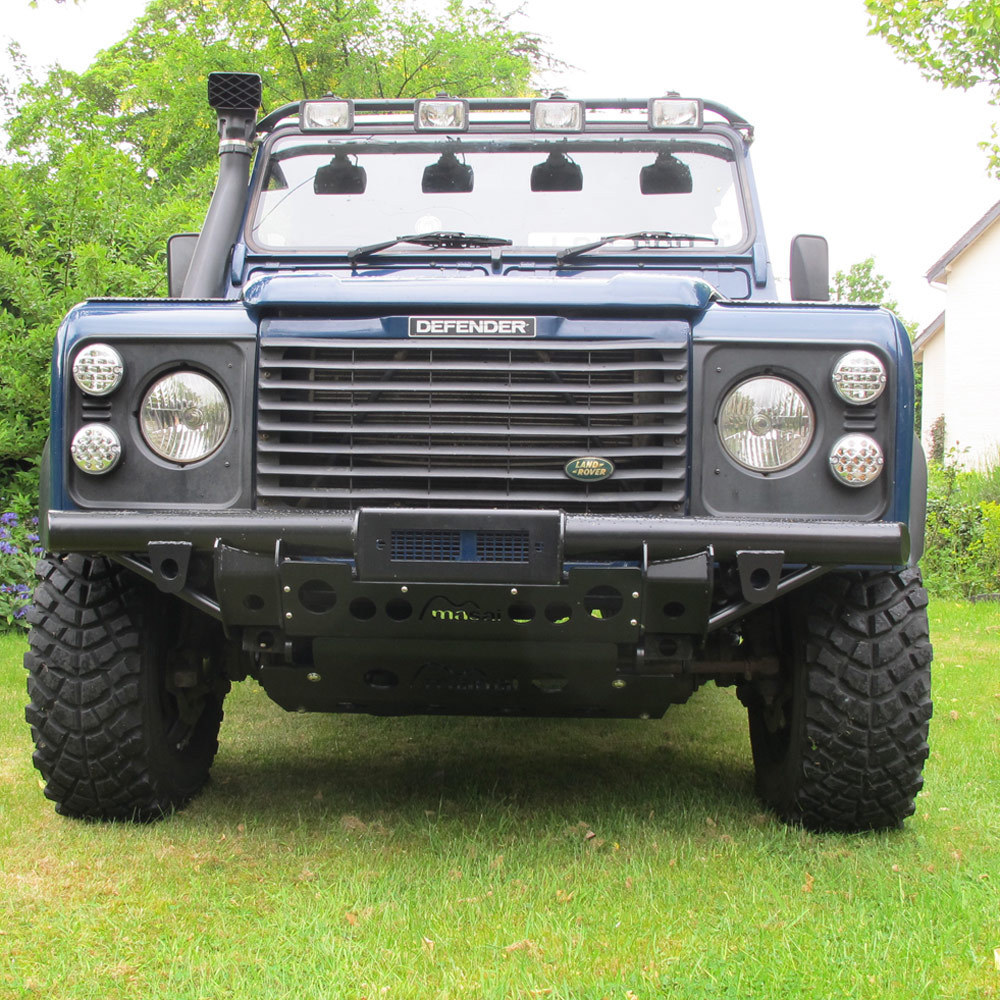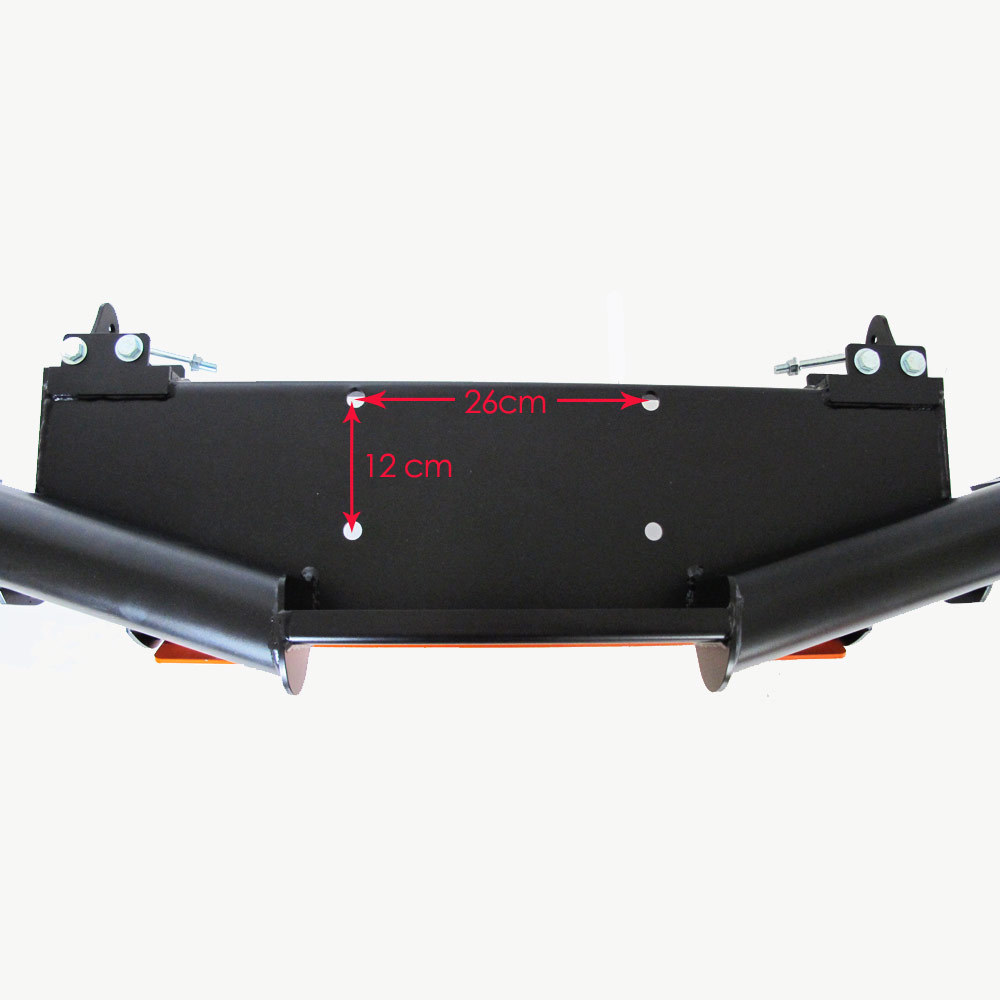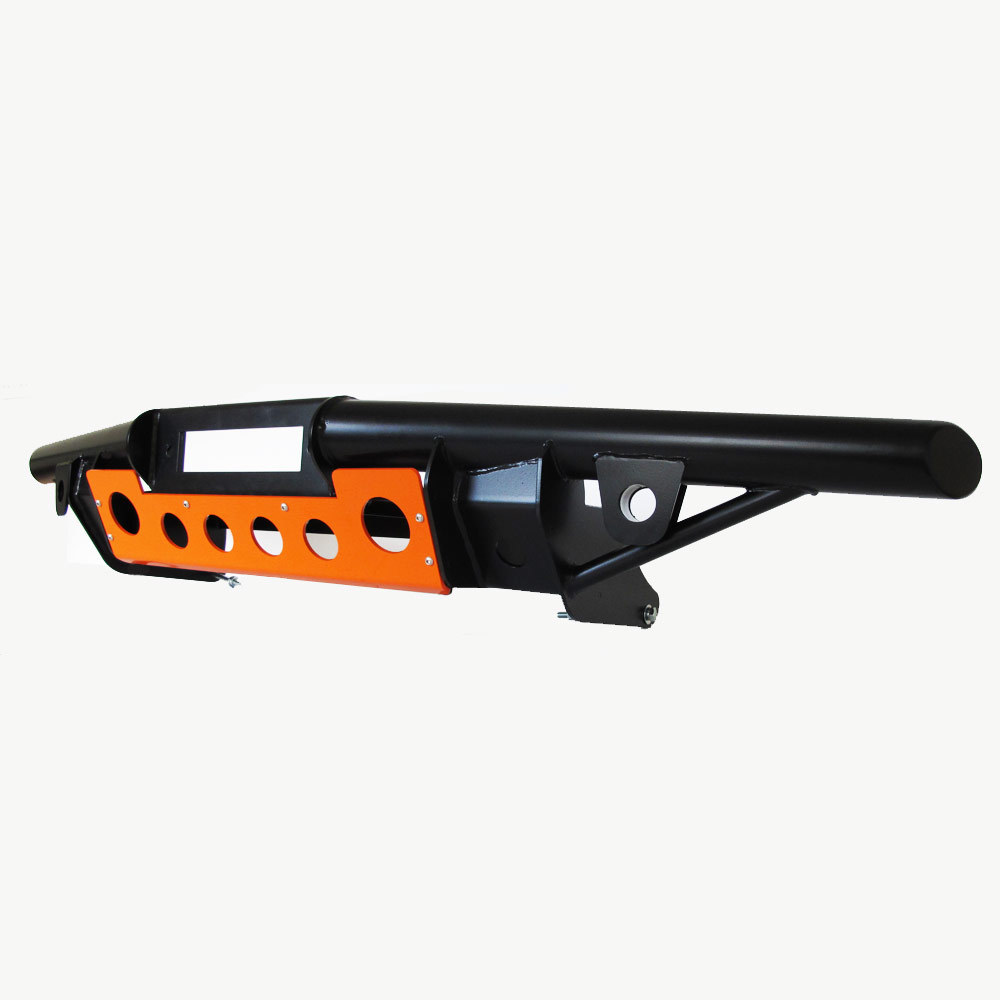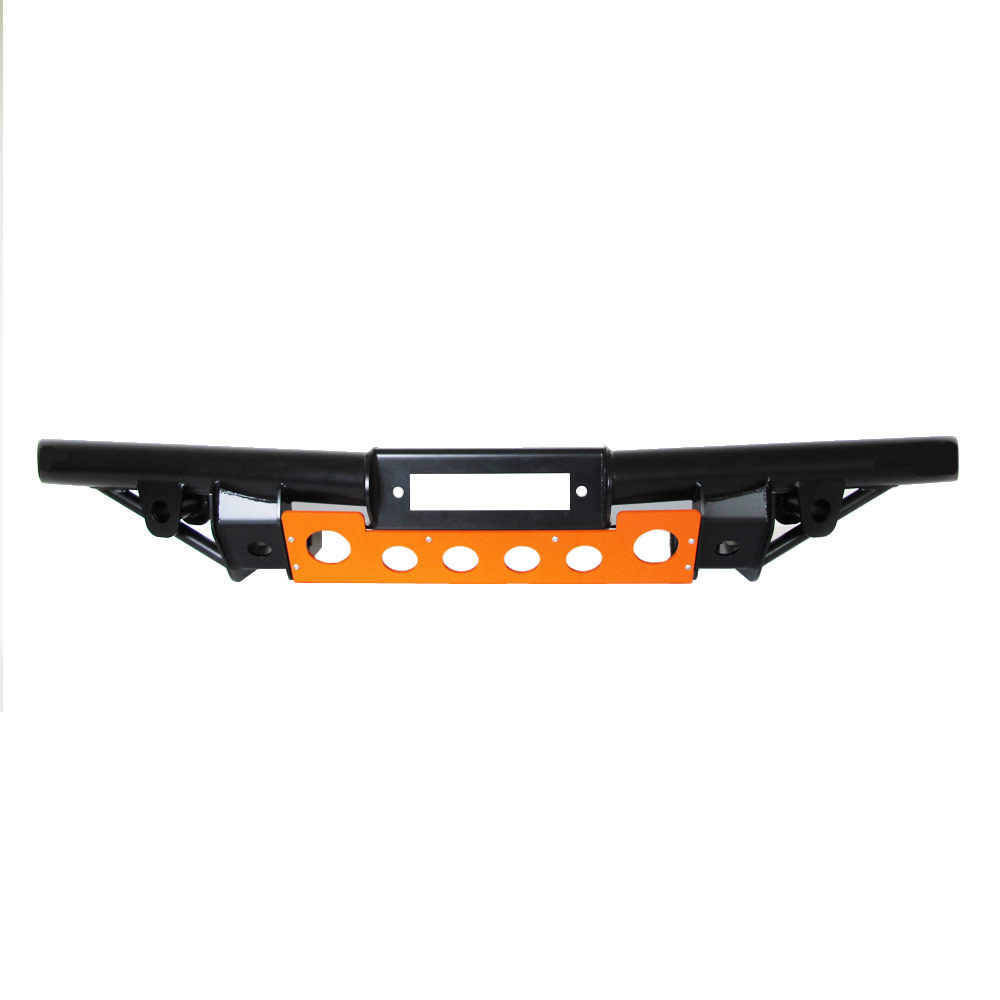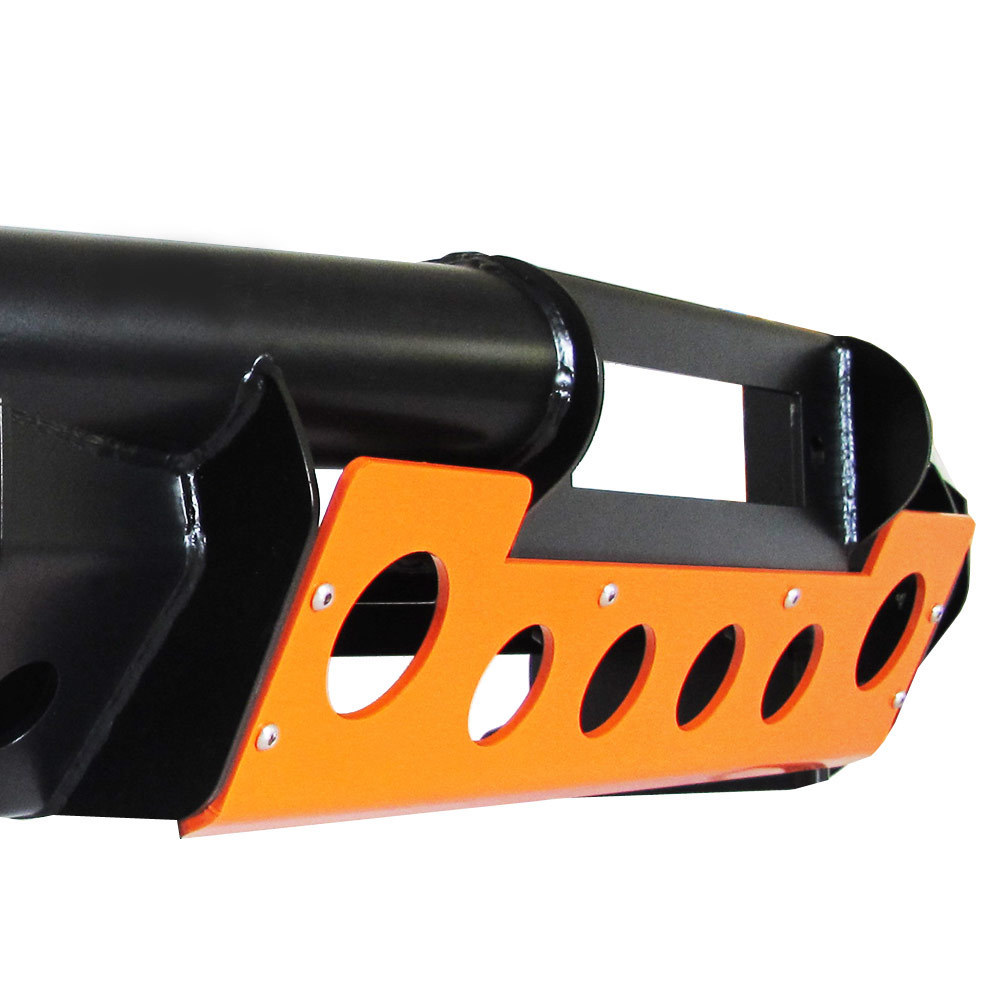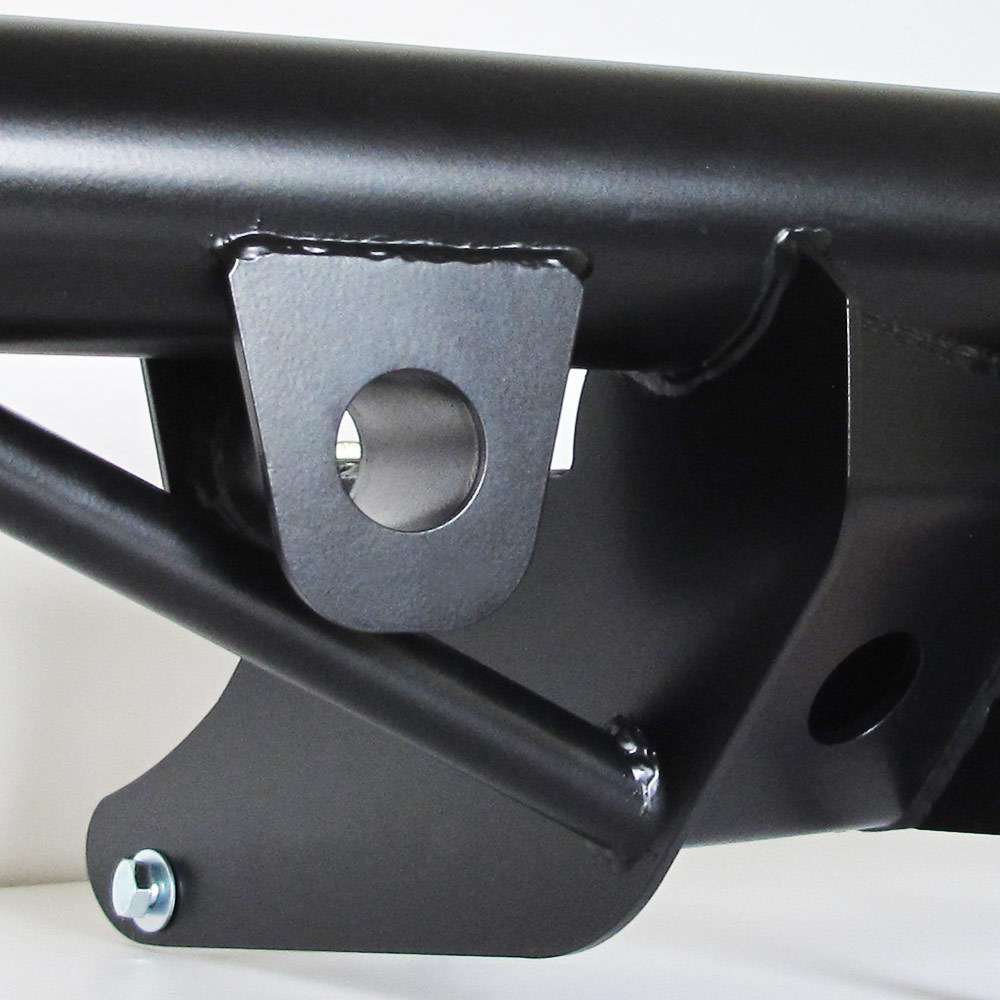 ---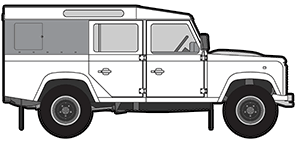 Land Rover Defender Upgrades, Enhancement Accessories and Parts
Welcome to the Masai® eStore (www.masai4x4.com). We design and manufacture a wide range of high-quality vehicle upgrades, enhancement accessories and parts for the Land Rover Defender, 90, 110 and 130, particularly glass and windows; but have a look around our website – we also have Defender roof racks, spare wheel carriers, seat covers, side steps, rear steps, lamp guards, Wing Mirrors, Tree Sliders, Winch Bumpers, etc.
One of our flagship products is our own-design Masai® Bonded Tinted Panoramic Windows for the Land Rover Defender, 90 and 110. The dark-tinted toughened glass side panel windows increase your Defender's privacy, security and value! As featured on exclusive Nene Overland Defender Icons.
Vehicle Lights – LED and Xenon HID Lights
We have a large range of premium-quality Driving Lights, Work Lights and Spot Lights. Some are modern low-power-consumption LED Lights, and others are high-luminosity Xenon HID vehicle lights. All lights are harsh environment compliant to IP65 or IP67. Rugged waterproof diecast aluminium housings (some ABS), spot beam and flood beam, various wattages from 15 to 150 and a wide voltage range from 9v to 32v. We also sell NAS LED lights for Land Rover Defenders, clear, coloured and smoked sets for all post 1983 90 and 110, include plinths, E marked (EU approved) and SAE approved. They provide increased visibility (brighter than standard bulbs) and they enhance and modernise the look of your Defender, easy to fit DIY.